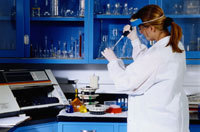 Oceanside, CA (PRWEB) May 15, 2008
Carbon Resources, an activated carbon provider, today announced the appointment of James P. McAliney to the Carbon Resources Board of Directors. Mr. McAliney has over 25 years of sales and marketing experience in the global markets of chemical engineering. In his tenure as Marketing Manager for Activated Carbon, he increased sales of activated carbon products and services through negotiation of multiyear, multimillion dollar contracts. As the Business Manager for North America, Polyamides, he structured and negotiated cooperative ventures to leverage worldwide marketing capabilities for the company.
Mr. McAliney spent four years as the Global General Manager for Polyamides in Paris, France. During this time he oversaw marketing efforts and built a top-producing sales team. He is currently the General Manager/Project Director for Glass Coatings & Expoxides in Pennsylvania.
"Having worked in the activated carbon business for over 10 years, I am impressed with Carbon Resources' growth and product offering. The Carbon Resources team has a great deal of practical 'hands on' experience and technology expertise which explains their high double digit growth. Carbon Resources creativity and fast response, align them well for continued success in this rapidly changing industry. My 25 years of international business experience will assist them in defining a longer term plan for growth, both within the U.S. and worldwide. I am happy to be part of it," said James McAliney.
"Carbon Resources has had a working relationship with Jim for many years and we are honored to have him become part of our Board of Directors. His experience in creating business plans and strategies for fast-track growth companies and global market expansion is exactly what we need right now. Our company is positioned for tremendous growth both domestically and internationally. Jim's international manufacturing and marketing knowledge is going to be an important advisory role for us," said Ken Schaeffer, president of Carbon Resources.
Abou Carbon Resources:
Carbon Resources, an activated carbon provider, takes pride in supporting our customers with a quality product that is backed by technical support and individualized customer service. The Carbon Resources Management Team has over 70 years of experience in the activated carbon industry. Our Sabre series®; Spartan Series®, Guardian Adsorber Series® and Sentry Series activated carbon products and services are the most diverse line of activated carbon products on the market.
# # #