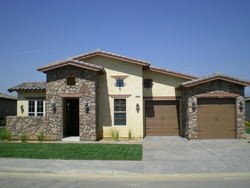 These homes are absolutely beautiful, and anyone thinking of purchasing a new home should seriously consider the deals that this online auction has to offer
Newport Beach, CA (PRWEB) May 15, 2008
With about two weeks until the bid deadline and minimum bids as low as $370,000 on million dollar homes, prospective buyers are enthusiastically conducting their due diligence and securing financing before placing their bid in the online auction of brand-new homes in Redlands. The LFC Group of Companies, a Newport Beach-based online real estate auction marketing firm, is conducting the online auction of these twelve homes on their residential auction website Freedom Realty Exchange (http://www.FRE.com/215R7).
Perched upon the hills of Redlands, California, Casalingo Estates is an upscale, gated community featuring elegant Tuscan-style homes on a secluded cul-de-sac. The exclusive community includes a private clubhouse that will house a state-of-the-art workout and exercise facility.
Conveniently situated off Wabash Avenue, just minutes from Interstate 10, the brand-new development is only two blocks from the prestigious Redlands Golf and Country Club.
The custom, single-story homes range in size from approximately 2,556 to 2,704 square feet. The low minimum bids for the homes are just a fraction of their previous value of about $950,000 to over $1 million. Currently, the fully-furnished model home, that is valued at approximately $1.3 million and started with a $1 minimum bid, has a high bid of $375,000, so interested buyers still have an unbelievable opportunity to purchase the home and its designer furnishings at a bargain price.
"These homes are absolutely beautiful, and anyone thinking of purchasing a new home should seriously consider the deals that this online auction has to offer," says Kelly Lovegrove, Director of Operations at the LFC Group of Companies. "With the location, the stunning upgrades and the fully maintained front and back yards -- the winning bidders will certainly get a lot for their dollar."
The 2,556-sq.-ft. Villa D'Barresa floor plan features two bedrooms with an additional den or study, two and a half baths, a three-car garage, family room, living room and a formal dining room. The 2,704-sq.-ft. Villa D'Aosta plan features three bedrooms, three and a half baths, a three-car garage, family room, breakfast room, living room and a formal dining room. Each home is fully upgraded with attractive features like solid wood interior doors, surround sound, an alarm system, smooth textured walls with bullnose finish and a boosted clay tile roof. Additionally, each home has a gourmet kitchen complete with custom wood cabinetry, granite countertops, Kohler® plumbing fixtures, a wet bar with wine fridge and stainless steel Kitchen Aid® appliances. Lastly, every home site has panoramic views of the beautiful San Bernardino Mountains and includes a fully landscaped front and back yard that are maintained by Casalingo's homeowner's association. Each lush backyard retreat includes an outdoor fireplace and a built-in barbeque area.
These exquisitely appointed abodes are perfect for any homebuyer looking for a new home with minimal upkeep and maintenance. The bid deadline is Thursday, May 29th, 2008. The homes are open for viewing Thursday through Friday from 11:00 a.m. to 5:00 p.m., Saturday through Sunday from 10:00 a.m. to 6:00 p.m. and by appointment. Information regarding financing and placing a bid is available when you register at http://www.FRE.com/215R7.
Freedom Realty Exchange -- part of the LFC Group of Companies
For more than 30 years, the LFC Group of Companies have served numerous Fortune 500 companies, real estate developers, investors, financial institutions and government agencies by auction-marketing thousands of commercial, industrial, land and residential properties with an aggregate value well in excess of $5 billion. http://www.FRE.com
###