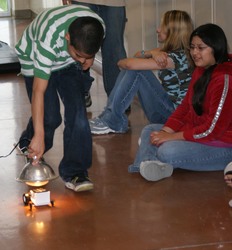 The dinner gave us a chance to kick back, congratulate the students for what they've accomplished so far, thank their parents for providing much-needed support and remind the kids that with a lot more hard work their goal is within reach
Denison, Iowa (PRWEB) May 15, 2008
Not too long ago, 10 eighth grade students from Denison Middle School couldn't have imagined that they would be designing, building and racing solar-powered cars as a class project.
But that's exactly what they accomplished during the current school year, and in the process they have successfully completed the first leg of their journey as they prepare to someday enter college and earn degrees. Now, the Denison students are about to begin the next crucial step.
The eighth graders are participating in Smithfield Foods' Learners to LeadersTM educational initiative and Iowa State University's (ISU) Science Bound program. As part of the Learners to Leaders/Science Bound curriculum, the students have been taking classes and engaged in projects that will prepare them to pursue science- or mathematics-related college degrees.
The students and their parents attended a dinner Tuesday night at Denison High School marking completion of the middle-school portion of their studies and honoring them for advancing on to the Learners to Leaders/Science Bound program at Denison High School next fall.
To help celebrate the occasion Tuesday night, the eighth graders put on a demonstration of solar-powered mini-cars they created during the past school year. Competing teams of students took disassembled cars, quickly put them back together and then raced the cars for a prize.
The team of Juan Meza, Carlos Valasquez and Andres Casteneda won the competition when their solar car covered 18 feet in 4.4 seconds. For their efforts, Meza, Valasquez and Casteneda each won a Learners to Leaders pen and notepad set.
"This program has been a fantastic opportunity for my students, largely because they're learning by doing, which is the best way to learn," said Collette Huntley, science teacher at Denison Middle School. Huntley and Kathy Jones are the two teachers assigned to the Learners to Leaders/Science Bound students.
"The dinner gave us a chance to kick back, congratulate the students for what they've accomplished so far, thank their parents for providing much-needed support and remind the kids that with a lot more hard work their goal is within reach," Huntley said.
She pointed to the solar-powered car as an example of what the students are capable of accomplishing when they apply their talents to lessons learned in the classroom. The car involved a fairly complex design. Made of plastic, each car is about six inches square and includes a miniature motor and solar panel the size of a small calculator, which the class received from Iowa State Extension Service.
"It has been a trial-and-error process, and the students have had a lot of fun designing and redesigning the solar car based on lessons they learned from building two other cars," Huntley said. "They made their own decisions during the design process, and they did a far better job of designing the car than I could have done."
"This has been such a wonderful experience for my students, and we're so grateful to Smithfield Foods and Iowa State University for making it possible," Huntley said. "Many of these students are from low-income families, and we've had parents thank us and thank us again for giving their kids the opportunity to get as much education as they can."
Smithfield Foods' Learners to Leaders program in Denison is a partnership that includes Farmland Foods, Inc., a Smithfield Foods independent operating company; the Denison Community School District; and Iowa State University's Science Bound program. Learners to Leaders is providing learning opportunities to students who may not otherwise have the chance to attend college due to academic, economic or social challenges. Participants include first-generation college-bound students, as well as low-income and minority students.
With funding from the nonprofit Smithfield-Luter Foundation, Denison students will participate in the Science Bound program through 2012. The program's focus is to equip students during their high school years to successfully earn science-related college degrees.
"The goal of the Learners to Leaders/Science Bound alliance is to help reinforce what we believe is the most critical part of any community's foundation, the education of its residents," said Christine Eppstein, director of community affairs at Smithfield Foods.
"We have always been firm believers in giving back to our communities, and we can think of no better way than to help these Denison students benefit from Iowa State's nationally acclaimed Science Bound program," Eppstein said. "The goal is to expose them to a wide range of career possibilities in science, mathematics and technical fields."
Smithfield Foods is a global food company with operations in 13 countries through wholly-owned subsidiaries and joint ventures. Headquartered in Smithfield, Va., the company produces more than 50 brands of pork, beef and turkey products and more than 200 gourmet foods. Employing more than 57,000 people across the globe, Smithfield Foods is the world's largest producer and processor of pork and a leader in turkey processing, cattle feeding and beef processing.
http://www.learnerstoleaders.com
# # #