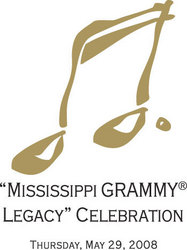 I'll Take You There
Jackson, MS (PRWEB) May 17, 2008
The State of Mississippi's continuing "Birthplace of America's Music" campaign shifts into high gear later this month with a star-studded gala set for Jackson, the state's capital. "Mississippi -- The Birthplace of America's Music Celebrates Its GRAMMY® Legacy," hosted by Governor Haley Barbour and First Lady Marsha Barbour will bring together a staggering array of performing talent reflecting the diversity of the state's unparalleled role in many genres of music.
The event, set for the evening of Thursday, May 29th at the Jackson Marriott's Windsor Ballroom, is a follow-up to Mississippi's salute last year to the GRAMMY 50th Celebration. The evening's program relates to the contributions of Mississippians to America's musical heritage and GRAMMY recognition thereof on multiple levels. Participating artists include country music songwriting legend Paul Overstreet; R&B/Pop star Brandy; Gospel music greats The Williams Brothers, joined by guitar icon James Burton; the incomparable Mavis Staples; blues guitar slinger Eddie Cotton; and a trio of Swedish divas: Beatrice, Anorah and Hannah Holgersson. The event will be hosted by actress Joey Lauren Adams, with a ballet interlude by Kathy Thibodeaux.
Sponsored by Peavey Electronics and the Mississippi Development Authority, the event will be preceded by a reception at the Governor's Mansion, hosted by the Governor and First Lady, where the participating performing artists will receive the Peavey Award. Named for renowned music and audio innovator and Mississippi native Hartley D. Peavey, the Peavey Award honors the state's many GRAMMY winners and nominees as well as individuals who have played a significant role in developing and furthering Mississippi's musical heritage.
The evening's performances will commence with Mavis Staples' performing "Will The Circle Be Unbroken," the folk/gospel standard that was a signature song for her family group, The Staple Singers, as well as "I'll Take You There," their biggest hit. The group's origins can be traced back to Winona, Mississippi where group founder Roebuck "Pop" Staples was born. Mavis Staples is a Rock and Roll Hall of Fame inductee and the recipient of a GRAMMY Lifetime Achievement Award.
The Williams Brothers began their recording career 35 years ago; their current releases are issued by Blackberry Records, the first black-owned and operated record label in Mississippi. This group has received numerous GRAMMY nominations and is widely considered the most prolific quartet within the entire gospel genre. Their contribution to the program will be a salute to the gospel side of Elvis Presley including performances of "How Great Thou Art," "Crying In The Chapel" and other songs associated with the spiritual side of the Tupelo-born boy who would grow up to be crowned "King of Rock 'n' Roll." The Williams Brothers will be joined by Rock and Roll Hall of Fame and Rockabilly Hall of Fame inductee James Burton, the guitar great who toured and recorded with Presley as part of his TCB Band.
Brandy, a native of McComb, Mississippi, has been recording since she was 15 and brings a youthful presence to the event with an amazing track record of more than 25 million albums sold worldwide. This year will see the release of her fifth career album and the first for Epic Records by the GRAMMY Award winner.
Paul Overstreet, a two-time GRAMMY Award winner, is one of the most successful country music songwriters of all time, having been named BMI Songwriter of the Year five times and has been the recipient of both CMA and ACM Song of the Year awards as well as three Dove Awards for his writing in the Christian field. A native of Newton, Mississippi, Overstreet has written songs recorded by a who's who of country greats including George Jones, Randy Travis, Tanya Tucker, Keith Whitley, Alison Krauss, The Judds, Kenny Chesney, Hank Williams, Jr., Glen Campbell, Mel Tillis, Travis Tritt and many others. Overstreet is also an accomplished record producer and as a recording artist in his own right, he has released albums on RCA and now through his own Scarlett Moon label.
Jackson's own Eddie Cotton will offer a tribute to the one and only B.B. King who was born in Indianola, Mississippi. Cotton, a fixture on the blues festival circuit, has prepared a set that highlights King's career with such songs as "The Thrill Is Gone," "Why I Sing The Blues" and others.
It should be noted that proceeds from the evening will benefit the Mississippi Blues Commission whose Blues Trail project places interpretive markers at notable historical sites related to the history and growth of the blues throughout the state.
The Swedish trio - pop singer Beatrice and rock singer Anorah and classical star Hannah Holgersson -- reflect the resonance that Mississippi music has around the globe. Beatrice is a pop music sensation throughout Scandinavia. Conservatory trained, she writes and performs her own music but for this event she will be paying tribute to contemporary country music's reigning queen, Faith Hill with a rendition of the Star, Mississippi native's hit "What's In It For Me." Notes Beatrice, "It's an honor for me to be on the program singing one of Faith Hill's songs. I'm a true fan of hers making it a dream come true to perform this music in her home state."
The rock side of Mississippi's musical legacy will be addressed by Sweden's Anorah who, like Beatrice is an accomplished songwriter, as well. Anorah will offer her version of "Here Without You" as a salute to 3 Doors Down, the multi-platinum selling band from Escatawpa, Mississippi. "They're one of my favorite groups," says Anorah "so this was a very easy decision for me to make."
Lastly, Hannah Holgersson will offer a tribute to Leontyne Price who was born in Laurel, Mississippi and went on to become one of the most celebrated sopranos in opera history with 15 GRAMMY Awards to her credit. Holgersson will perform "Caro Come" from Verdi's Rigoletto, with which Leontyne Price will always be identified. Kathy Thibodeaux, founder and artistic director of Jackson's Ballet Magnificat! will offer an interpretation in dance of the piece as it is performed.
The evening's emcee, Joey Lauren Adams, is a resident of Oxford, Mississippi. Her acting credits include roles in such films as Dazed And Confused, Chasing Amy, Mallrats, Big Daddy and The Breakup; and recently she served as writer/director of the feature film Come Early Morning, starring Ashley Judd.
In announcing the event, Governor Barbour noted, "Last year's salute to the GRAMMY on the occasion of its 50th anniversary was a total success and gave us occasion to reflect on just how significant the contribution of Mississippi artists has been over the years. From Elvis to B.B. King to Leontyne Price to Faith Hill, we cover the gamut: rock, gospel, country, blues, soul, opera; if it's music, it's Mississippi, and that's a big source of pride for us."
Jon Hornyak, Senior Executive Director of The Recording Academy® Memphis Chapter commented, "The Recording Academy is very supportive of Mississippi's second annual celebration of GRAMMY winners and nominees. With more than forty GRAMMY Award winners in a variety of genres, the state's incredible influence is undeniable."
About the sponsors:
Event co-sponsor Peavey Electronics was founded in 1965 by Hartley Peavey who, the year prior to the first GRAMMY Award, built his first amplifier in the basement of his family's home in Meridian, Mississippi. Today, Peavey is still based in Meridian but does business in 136 countries through 33 facilities -- most of which are in Mississippi -- and leads the industry in patents and innovations. Just as Mississippi bluesmen and early rock and rollers inspired Hartley Peavey to pursue his music dreams, so do his musical instruments and sound equipment continue to inspire musicians around the world. It is safe to suggest that virtually every GRAMMY nominee and winner has used Peavey products on stages and in studios over the course of the past 50 years. http://www.peavey.com
The Mississippi Development Authority is the State of Mississippi's lead economic and community development agency. More than 250 employees are engaged in providing services to businesses, communities and workers in the state. The MDA's Economic Development Group focuses its efforts in traditional business recruitment and retention, community development, tourism development and export development while it's Asset Development Group pursues innovative ways to develop unique Mississippi assets such as cultural heritage, natural resources and small town life styles. http://www.mississippi.org http://www.visitmississippi.org
Established in 1957, The Recording Academy® is an organization of musicians, producers, engineers and recording professionals that is dedicated to improving the cultural condition and quality of life for music and its makers. Internationally known for the GRAMMY Awards - the preeminent peer-recognized award for musical excellence and the most credible brand in music - The Recording Academy is responsible for groundbreaking professional development, cultural enrichment, advocacy, education and human services programs. In its 50th year, The Academy continues to focus on its mission of recognizing musical excellence, advocating for the well-being of music makers and ensuring music remains an indelible part of our culture. For more information about The Academy, please visit http://www.grammy.com.
###