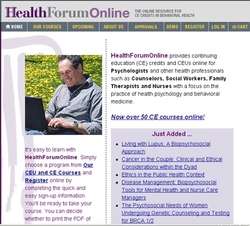 Psychological Care of the Breast Cancer Patient
Jenkintown, PA (PRWEB) May 15, 2008 -
Approved as a continuing education provider by several professional organizations, HealthForumOnline (HFO) is known as the only online continuing education provider that focuses on health psychology and behavioral medicine topics. After recently announcing over 50 online CE courses, HFO updated two of their cancer-related courses. "Psychological Care of the Breast Cancer Patient" and "The Psychological Care of the Cancer Patient: Coping Across the Cancer Spectrum", to reflect recent advances in cancer research.
Michelle Rodoletz, Ph.D., Director of HFO's CE Program and former Associate Director of Psychosocial and Behavioral Medicine at Fox Chase Cancer Center explains, "HealthForumOnline takes our commitment to providing psychologists, social workers, counselors, and other mental healthcare professionals high-quality online continuing education very seriously. Toward this end, we update our courses routinely to reflect the most current research and our customers have continued access to these course updates even after they have completed the CE activity. In this way, customers make an investment in their ongoing education each time they take one of our online CE courses."
The psychosocial challenges that cancer patients, as well as their families, face are well documented. As a mental health continuing education provider, HFO understands that it is critical to recognize this wide range of emotional and psychological symptoms and disorders associated with the cancer experienced.
Laura Stanton, Ph.D., Director of Clinical Services and published author in the cancer context, notes, "Clinical interventions that address the emotional, psychological and social aspects of cancer go beyond enhancing quality-of-life and reducing stress to include improved medical outcomes."
The seven courses offered in HFO's Cancer Adaptation CE category focus on topics such as couples coping with cancer, the individual treatment of breast and/or ovarian cancer patients, therapeutic cancer groups, fertility preservation in newly diagnosed cancer patients, and the psychosocial needs of women undergoing BRAC1/2 testing.
The topic of BRAC1/2 testing is particularly relevant as a bill that was just passed to prevent discrimination based on genetic predisposition to disease. This change in legislation may lead to an increase in the number of women who consider genetic testing for breast cancer.
To learn more about the Cancer Adaptation courses or a complete mental health continuing education course listing, please visit HealthForumOnline.com.
About HealthForumOnline:
HealthForumOnline (HFO) is approved as a provider of CE courses by the American Psychological Association, the National Board of Certified Counselors, the Association of Social Work Boards, and several state professional organizations, including the Pennsylvania State Nurses Association, an accredited approver by the American Nurses Credentialing Center's Commission on Accreditation, and the California Board of Behavioral Sciences. HFO's CE Program's Advisory Committee and authors are comprised of over 50 nationally recognized experts in behavioral medicine including Dr. David Weinberg who was recently named Chairman of the Department of Medicine at Fox Chase Cancer Center, Philadelphia, PA.
###