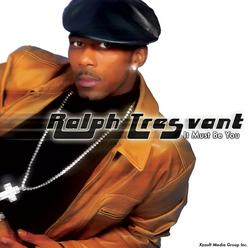 It Must Be You, is an incredible song, it's very catchy, there is nothing like it on the charts today, it's an undeniable radio hit, this is the Ralph Tresvant, I've been waiting for.
Los Angeles, CA (PRWEB) May 15, 2008
Ralph Tresvant is celebrating 2008 with an unprecedented amount of independence, energy, music and entrepreneurial endeavors, with a hot new single "It Must Be You", that is being heralded as the come back track of the new millennium, it seems Ralph Tresvant's Marquee is rising back into the spotlight, and if industry insiders predictions are correct, this is going to be a tsunami in the making. Here's what one industry insider had to say: "It Must Be You, is an incredible song, it's very catchy, there is nothing like it on the charts today, it's an undeniable radio hit, this is the Ralph Tresvant, I've been waiting for."
Ralph Tresvant has a lot to celebrate for his 25th anniversary, with fresh new music and the taking control of his career by releasing his new single through his own independently owned and operated label "Xzault Media Group" that has direct distribution deals with Apple's iTunes, I.O.D.A and other national retailers that he says, gives him the freedom and power to provide his music directly to his fans in an up close and personal way. Listen to an advance preview of his new single "It Must Be You" exclusively on http://www.ralphtresvant.com and look for Ralph's new single available July 1, 2008 on iTunes, Amazon.com and other Digital Download sites.
Ralph Tresvant is a shining star that has been captivating audiences for over 25 years as a solo artist; actor, entertainer, writer, producer and legendary front man of super group New Edition. Ralph Tresvant has helped to pave the way for so many others like New Kids On The Block, Backstreet Boys, Nsync, Chris Brown, Neo, Usher and Justin Timberlake, who have all followed in his footsteps. From Ralph's youth he has been compared to the king of pop Michael Jackson, with his candy girl vocals and amazing stage presence it was very clear that Mr. Tresvant was destined for greatness. Legendary music icon Dick Clark himself has said that Ralph Tresvant is an amazing and timeless artist.
Dan Dillman, "Ralph's business partner," states: "Ralph Tresvant is an Icon in the entertainment world, he's a star's star, with a built-in fan base that spans over three generations of music lovers, I can't believe that a major label hasn't come knocking on Ralph's door to build upon that Ralph Tresvant name brand, maybe they have some kind of illusion in their mind that Ralph Tresvant the solo artist is not the same Ralph Tresvant that is the voice and lead singer of New Edition, so let me bring some clarity to those with that false illusion: you can't separate the two, Ralph is New Edition."
As the major labels struggle to survive their new digital reality, they are missing the opportunity that geniuses like "Live Nation" have realized -- that artists like Madonna and Ralph Tresvant are very rare and valuable assets that can excite concert goers and music fans to come out in massive numbers to support these icons. Mr. Dillman states: "So that's exactly what we are doing here at Xzault, we're not waiting around for someone to come and do it for us, we are the ones that we've been waiting for. The time is right for Ralph's star to shine bright in this new age that has opened Pandora's Box for established entertainers like Ralph Tresvant, who have been fortunate to have touched the hearts, ears and souls of music lovers across the world for over 25 years. I am very excited to be here with Ralph at this special moment in time when the world is changing and heading towards a new paradigm musically, physically and spiritually. I believe this new song 'It Must Be You' will be the first big hit for Ralph from his upcoming new record that we are releasing later this year and spawn the energy around the up close and personal tour that we are preparing for where Ralph will be performing his new hits, past solo hits and New Edition hits in a very intimate up close and personal setting in secret locations across the country and then take the tour around the world where Ralph has so many fans, especially in Europe, in countrys like Germany, France and the UK. Ralph Tresvant is the defining voice and lead singer of New Edition that has been responsible for over 40 million records sold worldwide."
# # #