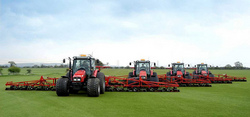 ...unlike any other preceding machine in its field...
York, UK (PRWEB) May 19, 2008
A High Court Judge has today ruled that Rolawn's large area 21 gang mower was a new and innovative design and is protected by Intellectual Property Rights. In a 76 page judgment, given following a recent 2 week trial between Rolawn, Europe's largest grower of cultivated turf and Turfmech Machinery, Mr. Justice Mann held that the Rolawn mowers had "...created a strong impression in the turf growing community.." because they were "...unlike any other preceding machine in its field..."
Rolawn had brought a design right claim in respect of the Turfmech Maximow 13 and 17 gang mowers. The judge held that, whilst Turfmech was definitely interested in and inspired by the Rolawn mower when producing its Maximow 13 and 17 gang mowers, the design was not sufficiently similar to Rolawn's designs to constitute infringement. Although the judge held that these mowers did not infringe, he also held that more had been copied from Rolawn's designs than Turfmech had admitted and that two of Turfmech's witnesses had not been truthful about the inspiration they had drawn from Rolawn's original design.
Rolawn's chairman, Ken Dawson commented: "This judgment vindicates our belief that the Rolawn mower is a truly unique and innovative design and is like nothing that has gone before. We are disappointed that notwithstanding this and the finding that Turfmech took key aspects of our design for their mowers, the judge felt unable to find for us on infringement. This is particularly so, given the judge's comments as to the untruthfulness of some of Turfmech's evidence at trial, given in the witness box by both its Managing Director and Engineering Director as to the extent to which the Rolawn mower in fact influenced the Maximow design process, and the fact that Turfmech had previously approached us to produce our machine under license. It also emerged during the proceedings that Turfmech's designs were not commercially successful and, given that, Turfmech indicated that its focus has largely shifted from turf growers. We are in agreement with other aspects of the judgment, which recognize Rolawn's rights, however Rolawn is seeking permission to appeal on the point on which it was unsuccessful. In the meantime we will continue with our policy to vigorously defend our Intellectual Property Rights at all times."
Rolawn is Europe's larger producer of cultivated turf and is also recognised as Britain's leading supplier of high quality topsoil. Located in the Vale of York, Rolawn is an independent business whose reputation has been established for over 30 years. Rolawn also provide bark and lawn seed as well as lawn food and fertiliser.
###