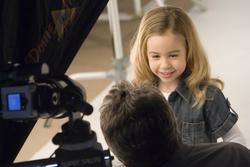 My daughter Miranda had a blast as the first-ever 'Balloon Time Face of Fun'
Columbus, Ohio (PRWEB) May 20, 2008
Moms, it's time to grab those cameras and set the red eye control feature because the search for the next photo contest "Face of Fun" is on.
Through March 15, 2009, parents with children ages 3 – 11 are eligible to register their child for the chance to be named the next Balloon Time "Face of Fun." The grand prize winner will be featured on Balloon Time's packaging and will receive $1,500 toward his or her education.
"My daughter Miranda had a blast as the first-ever 'Balloon Time Face of Fun'," said Terri Kress, mother of five-year old Miranda Kress. "Miranda had a great time with everything from the photoshoot with helium balloons to the media interviews to showing her friends the packaging. She wishes she could win every year."
Parents can register their child for the photo contest at http://www.PutAFaceOnFun.com or by visiting the Balloon Time "Put A Face On Fun" Mobile Tour during one of its cross-country stops. An up-to-date schedule of mobile tour stops is available online at PutAFaceOnFun.com.
Uploaded photographs to http://www.PutAFaceOnFun.com must be in GIF (.gif) or JPEG (.jpg) format and may not exceed a file size larger than 200 KB. Professional photographs will be disqualified.
Each photo contest photograph will be scored by a panel of judges based on the following criteria: smile, age appropriateness, expression of fun and suitability for appearing on packaging. For a list of official rules, visit http://www.PutAFaceOnFun.com.
In addition to registering a child, those who enter the photo contest will be enrolled in the Balloon Time Party Club, giving them access to the monthly Celebrations e-newsletter, full of creative party planning ideas from Balloon Time's party planning expert, Penny Warner.
Balloon Time offers a family of helium balloon kits that includes an easy-to-use helium-filled tank, latex or foil balloons and ribbon in one convenient, lightweight, manageable box. Great for reducing the stress involved with party planning, Balloon Time kits can be found at large retail chains, party goods and grocery stores nationwide.
For more information on Balloon Time, its photo contest or to find a retailer, visit http://www.BalloonTime.com. The site is a source for party planning, birthday balloons, party balloons, foil balloons, latex balloons, helium balloons, helium balloon kits.
About Worthington Cylinders
As a sponsor of the Balloon Time "Put A Face On Fun" photo contest, Worthington Cylinders is the world's leading global supplier of pressure cylinders, continually delivering solutions to its customers while exceeding their expectations in quality, service and value. Worthington Cylinders offers the most complete line of pressure cylinders in the industry, including liquefied petroleum, refrigerant and industrial gas cylinders, air brake tanks and consumer products. Worthington Cylinders is a Worthington Industries (NYSE: WOR) company. Worthington Industries is North America's premier value-added steel processor and a leader in manufactured products such as automotive aftermarket stampings, pressure cylinders, metal framing, metal ceiling grid systems and laser-welded blanks. For more information, visit http://www.WorthingtonCylinders.com or http://www.WorthingtonIndustries.com.
Safe Harbor Statement
The company wishes to take advantage of the Safe Harbor provisions included in the Private Securities Litigation Reform Act of 1995 ("the Act"). Statements by the company, which are not historical information, constitute "forward looking statements" within the meaning of the Act. All forward-looking statements are subject to risks and uncertainties which could cause actual results to differ from those projected. Factors that could cause actual results to differ materially include risks described from time to time in the company's filings with the Securities and Exchange Commission.
###