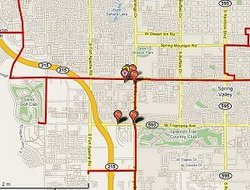 These tools have helped Telarus and its agents gain a real foothold in the ethernet sales marketplace.
Draper, UT (PRWEB) May 16, 2008
Telarus, Inc., premier telecom master agent and creator of ShopforT1.com, ShopforEthernet.com, and VARNetwork.com, today announced that it had completed the development of in-house software that shows its agents where fiber is physically located. Layered on top of Google's map application, Telarus agents can clearly see the path the fiber takes in an effort to locate the availability of ethernet broadband services for their clients.
"A year ago Telarus created a 'lit building locator' which enabled our agents to see exactly where ethernet broadband is currently available. Now we've taken ethernet broadband sales research to a whole new level with the addition of fiber routes," commented Adam Edwards, president of Telarus. "These tools have helped Telarus and its agents gain a real foothold in the ethernet sales marketplace."
The fiber route add-on to GeoQuote was completed with cooperation from Telarus' newest vendor, American Fiber Systems, as well as Level3, the leading fiber backbone provider in the United States. Telarus reports that all American Fiber Systems and Level3's domaestic fiber routes are visible, with fiber footprints of other vendors coming online in the coming weeks.
"As we move further and further into the enterprise space," added Lance Akins, VP of Sales for Telarus, "our agents require tools that enable them to find out where metro ethernet is available, and where a buildout is viable and plausible. This new fiber route locator will help our agents diagnose opportunities for build outs for customers who are not in a fiber-lit building, but are located very close to a subterranean fiber route."
Currently, Telarus agents can use the GeoQuote Ethernet tool to locate the lit buildings of: American Fiber Systems, AireSpring, Cavalier, Telnes, Level3, NuVox, MegaPath, Network Innoviations, Qwest, TW Telecom, and XO Communications. ACC Business is expected to come online in the next 30 days. The public can access a carrier-neutral view of fiber-lit buildings using Telarus' http://www.ShopforEthernet.com portal.
It is expected that the Carrier Ethernet market will grow from $1.4 billion in 2007 to nearly $6 billion in 2012, according to a recent market research study from The Insight Research Corporation. With metro-area Ethernet services becoming available from virtually all major data service providers and wide-area Ethernet about to get a shot in the arm from the dominant carriers, the market is poised to take off. With the help of Telarus' GeoQuote, independent sales agents will be able to find and diagnose these opportunities in real-time without waiting days for carriers to turn around availability information, providing a catalyst for the growth of the broader Carrier Ethernet market.
"With the knowledge of the whereabouts of fiber lit building and the fiber routes themselves, we hope to enable our own agents to make more sales of enterprise grade services as well as to attract veteran agents and partners who see value in the research tools we provide," added Patrick Oborn, VP of Marketing for Telarus. "At the end of the day we want people to know that Telarus is a company that welcomes new partners with open arms, even if they have direct contracts with vendors. Whatever their circumstance, we'll figure out a way to work together."
If you would like more information about partnering with Telarus to gain access to real-time enterprise sales research tools, please apply online at http://www.telarus.com/commercial_partners.html.
About Telarus:
Telarus is the number one master agency in 2008 as voted by the members of the Telecom Association and VAR Business Magazine. It is our goal is to make agents and VARs more successful than they can be on their own or with any other master agent. Telarus provides agent tools, automation, and superior support in an atmosphere of cooperation and ethical community. One example of the tools Telarus provides its agents is real-time voice and data price quoting through its patent-pending GeoQuote technology. GeoQuote makes it possible for business shoppers to access instant pricing and availability information for over 30 broadband data and voice service providers which include Accel Networks, ACC Business, AireSpring, American Fiber Networks, AT&T, Cavalier, Covad, Level3, MegaPath, Network Innovations, NewEdge Networks, NuVox, PAETEC, One Communications, PowerNet Global, Qwest, TelePacific, Telnes, Time Warner Telecom, UCN, and XO Communications. Since 2004, Telarus agents have sold commercial data and voice services to over 5,000 businesses. This year Telarus is on track to top $36M in gross annual telecom sales. Telarus generates leads for marketing portals that specialize in: t1, mpls, metro ethernet, and pbx phone systems.
If you are interested in making Telarus your Master Agent, please contact Dan Watson, Telarus Channel Manager, at (877) 346-3232 or apply online at http://www.telarus.com/commercial_partners.html.
###