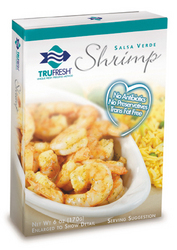 Suffield, CT. (PRWEB) May 16, 2008 -
This Memorial Day weekend, shrimp lovers are in for a treat. Trufresh® with its Unique Fresh Freezing Method introduces shrimp, available at select supermarkets throughout the Northeast. Trufresh Salsa Verde and Lemon Herb Marinade shrimp which are fresh frozen using the patented Trufresh method makes "frozen shrimp taste like fresh" according to a top national food critic.
Trufresh Salsa Verde and Trufresh Lemon Herb Marinade Shrimp are now available at Shop Rite and Kings Supermarkets in parts of New York, Pennsylvania, New Jersey, Delaware, Massachusetts, Rhode Island and Connecticut.
Trufresh Salsa Verde and Trufresh Lemon Herb Marinade Shrimp contain no antibiotics, no preservatives and are trans fat free. The farm raised white shrimp (p. vannamei) are frozen at the point of harvest in Guatemala. Trufresh marinated shrimp are single frozen at the source using the patented Trufresh Unique Fresh Freezing Method which retains the highest qualities of taste, resilience, aroma, texture and color.
Trufresh was created as an alternative to conventional freezing methods and the "Unique Fresh Freezing Method" has been labeled a "breakthrough in freezing technology" by retaining all the benefits of fresh seafood with the safety and convenience of frozen. The vacuum packed Trufresh shrimp with marinade is immersed in a patented brine formula. The seafood flash freezes in the -40 degrees Celsius brine, preventing the formation of complex ice crystals in the muscle tissue of the shrimp. Traditional freezing methods form ice crystals in the shrimp, degrading the quality of the shrimp, which often results in water-logged mush, with little flavor and a rubbery consistency.
Trufresh gives consumers the convenience of having the freshest shrimp on hand without having to go to a market, where most shrimp is generally thawed from frozen. Trufresh marinated shrimp are also convenient to prepare. The Salsa Verde or Lemon Herb Marinade Shrimp come in their own prepackaged cooking bags and take minimal time to heat in either boiling water or by microwave.
About Trufresh
Trufresh products are available for wholesale nationally to the nation's top restaurant chains and hotels and served at thousands of quality independent restaurants through major broad line wholesale distributors. Visit Trufresh at http://www.trufresh.com.
###