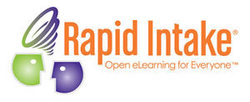 Our team put a lot of energy into usability and innovative design, so it's very rewarding.
Lehi, UT (PRWEB) May 21, 2008
Rapid Intake (rapidintake.com) announced today that its Unison web-based software received the Software Innovation Award from the Computing Technology Industry Association (CompTIA). Unison is a web-based software solution that lets instructional designers and subject matter experts collaboratively work together to create interactive Flash-based courses without having to know Flash.
"This year's SoftwareCEO Software Innovation Awards competition featured more than 90 entries, a record number," said David Sommer, chief operating officer of the CompTIA, and publisher of SoftwareCEO. "That's a testament to the creativity and vibrancy of the software market, which continues to produce products and services that deliver real business value to customers. By winning a SoftwareCEO Software Innovation award, Rapid Intake has demonstrated it is at the forefront of innovation. On behalf of the worldwide membership of CompTIA and SoftwareCEO, I am pleased to recognize their achievement."
Targeted at instructional designers and e-learning developers, Unison lets designers and subject matter experts (SMEs) collaboratively gather content, storyboard, develop, review, test, and publish Flash-based courses -- without having to know Flash. Built on the Rapid Intake development platform, Unison has been adopted by such industry leaders as T-Mobile, Intermountain Healthcare, and PetSmart.
"Software applications for creating online courses traditionally run on your desktop computer. eLearning course development has always been team-based, so that doesn't make a lot of sense," says Steve Hancock, President at Rapid Intake. "Because Unison is a web-based application, it allows entire teams to collaborate in real-time, creating incredible productivity savings for our customers."
Rapid Intake's development platform enables designers and subject matter experts (SMEs) to collaboratively create Flash-based interactive courses that include learning games, quizzes, tests, and simulations at a fraction of the cost required by traditional rapid e-learning authoring tools. All output is SCORM compliant, rich-media compatible, and works on most PC and Mac browsers.
"We are thrilled that Unison has been recognized this way so soon after our product launch," says Garin Hess, Rapid Intake CEO. "Our team put a lot of energy into usability and innovative design, so it's very rewarding."
Industry analysts are also recognizing Unison as a break-through innovation.
"I was impressed," says Clive Shepherd, author of the popular Clive on Learning Blog. "I can't help thinking that this product is going to raise the bar."
Brent Schlenker, popular blogger and speaker on corporate training and e-learning development also praised Unison. "When I first saw Unison a few months ago, my only thought was, 'WOW! This totally changes the game.'"
About Rapid Intake:
Rapid Intake (http://www.rapidintake.com) is the leader in collaborative eLearning development and review. The Rapid Intake Platform helps organizations learn faster by opening the rapid eLearning development and review process to everyone. Unlike traditional rapid eLearning authoring tools, Rapid Intake's powerful, flexible platform helps instructional designers and content owners collaboratively create Flash-based interactive courses built on proven learning patterns, regardless of their skill levels. eLearning Guild members recently ranked Rapid Intake the most powerful, flexible solution and one of the most serviceable companies. Hundreds of companies rely on Rapid Intake's top-ranked technology to create more interactive and effective courses in less time.
Rapid Intake also organizes and hosts the annual e-learning developers conference, eLearning DevCon, which focuses on best practices for e-learning course development. For more information on eLearning DevCon, visit elearndevcon.com.
Learn more about Rapid Intake and Unison at http://www.rapidintake.com.
Contact Information:
Jeff Batt
Marketing Coordinator
jeffbatt @ rapidintake.com
Direct: 801.766.8003
Toll Free: 866.231.5254
http://www.rapidintake.com
Rapid Intake Corporate Office
441 W Main Street
Lehi, Utah 84043
###