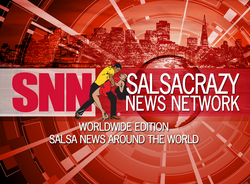 There's an event in every major city across the globe, and almost every resort destination too. It's become impossible for any salsa dancer to keep track of all the events, including myself, and that's prompted us to make a single, constantly updated, salsa congress directory
San Francisco, CA (PRWEB) May 16, 2008
Gone are the days where large gatherings of salsa dancers, from around the world, would converge yearly on a location for a massive three day, or week long salsa congress. Now it happens every week, usually at multiple locations, all over the world. There's a major salsa congress or festival happening every weekend.
"There are so many salsa congress events, and salsa dance festivals, it's staggering" says Evan Margolin, President of SalsaCrazy.com. "There's an event in every major city across the globe, and almost every resort destination too. It's become impossible for any salsa dancer to keep track of all the events, including myself, and that's prompted us to make a single, constantly updated, salsa congress directory".
The site, SalsaCongress.com, lists all salsa dance congresses around the world, as well as salsa dancing festivals, major concerts, and any major salsa dancing or music event. It has a weekly mailing list for the biggest upcoming salsa dance events, and a monthly video podcast that details the big events for the future.
"The salsa congress site performs a great service, and is bound to become a big hit. We'll add all sorts of features to help people track events, get reviews of past events, and plan their travel and salsa dance event schedule, keep the site completely up to date". After all
Salsa Dancing has become increasingly popular, year after year, and whereas once there were only a small number of large events that happened worldwide, and a handful of dance performers, there are now hundreds upon hundreds of events per year, and hundreds of world class professional dance teams or couples. Likewise, whereas few cities had major events each year, now it's common to see every major city, and many smaller cities, offer world class salsa dance events.
"The pace of growth is incredible, and it offers such great vacation, travel and dancing options for the salsa dancers. There's never been a greater time to learn to dance salsa" says Margolin. "You can literally travel the world salsa dancing now, and catch major salsa dance events all over the globe. Dancing is a great way to meet people, learn a culture, and make friends, even without speaking the language".
About SalsaCrazy.com:
The SalsaCrazy brand is known worldwide as the bestselling Salsa Dance instruction videos in the world, as well as an salsa dancing information powerhouse, covering salsa dance nightlife, events and classes, in over a dozen countries. Founded in 1996, SalsaCrazy.com is dedicated promoting salsa dance around the world, in all its forms, and to offering the finest instructional learn how to dance videos on the market.
###