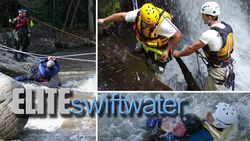 These are the facts we are trying to disseminate
Fayetteville, WV (Vocus) May 16, 2008
Water and rope rescue is just one of many unique rescue disciplines commonly performed by first responders throughout the nation and around the globe. Swiftwater and rope rescue requires a specific technical training regimen as well as specialized equipment and gear. According to Elite Swiftwater instructor, Brandon Holmes, "Mastering the conceptual and technical aspects of swiftwater and high-angle rescues requires that we (as rescuers) are constantly researching the latest equipment and techniques as well as communicating with our colleagues on what works and what doesn't. That's what eliteswiftwater.com is all about: fostering communication among rescuers so that we continue to better serve our communities."
With an escalation of flood disasters worldwide, it has become critical that first responders from all agencies stay abreast of emerging technologies and techniques that will ensure they are prepared for the mental and physical challenges inherent to flood disasters. Research has shown that the chance of a firefighter getting killed in an incident involving swiftwater is 400 times greater than getting killed in a structure fire. Moreover, flooding remains the leading cause of weather-related death each year in the US, and moving water kills more Americans each year than fire. "These are the facts we are trying to disseminate," says Keith Doherty, production manager for the Elite Swiftwater Institute. "As eliteswiftwater.com continues to aggregate and distribute relevant content for swiftwater and rope rescuers, the rescue community's level of awareness rises and more accidents are prevented."
Eliteswiftwater.com utilizes a variety of engaging content to keep swiftwater and rope rescuers on the top of their game. The site is continually updated with video-based swiftwater gear reviews and water and rope rescue specific tips and tricks; timely and relevant news and information related to water and rope rescue from around the world; a forum for water and rope rescuers; and information on field courses for Technical Swiftwater and Rope Rescue Training.
###