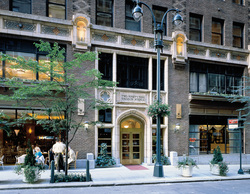 Drink Wine, Eat Chocolate, And Stay Young
New York, NY (PRWEB) May 20, 2008
The Library Hotel, located on Madison Avenue in Midtown Manhattan, invites travelers to enjoy a "Drink Wine, Eat Chocolate and Stay Young" weekend package. It is the ultimate way to indulge oneself and also gives guests an opportunity to explore New York City as well as the Long Island wine country.
The "Drink Wine, Eat Chocolate, And Stay Young" weekend package at The Library includes:

Choice of either a Deluxe Queen Room or a King Bedded Junior Suite
European style breakfast daily
Box of antioxidant-rich dark chocolates from around the world
Bottle of red wine upon arrival
Wine Tasting Diary for two
Trip for two to Delluva Spa, Manhattan's first Vinotherapy Spa including a manicure/pedicure, and a Theravine barrel bath where guests are immersed in powerful grape skin and vine leaf antioxidant extracts, combined with indigenous essential oils to promote the fight against aging. Hydrotherapy uses water to achieve a deep state of relaxation, while the therapeutic jets massage and rejuvenate. The treatment includes a full body grapeseed exfoliation, hydrotherapy treatment and a light application of Pinotage body oil.
A guided day tour of the wineries and vineyards of the Northfork area of Long Island, New York
Daily passes to the nearby New York Sports Club
Two copies of "The Science of Staying Young" by John E. Morley and Sheri R. Colberg
Guests can also indulge in a wine and cheese reception daily from 5 p.m. - 8 p.m. in the Reading Room of the Library Hotel.
Package rates start at $670 plus tax per night. A two-night minimum stay is required. Rate shown does not include daily tax and occupancy fee. The package is only available for Friday, Saturday, and Sunday between May 1 and September 1, 2008 and is based on availability.
To book or for any questions on the package, please contact Yogini Patel in the Sales Department at 212-204-5413.
Library Hotel - A Thought Provoking Experience...
New York's most celebrated concept hotel, The Library, is ideally located in Midtown Manhattan on fashionable Madison Avenue.
Each of the 10 guest room floors of The Library is dedicated to one of the 10 major categories of the Dewey Decimal System. Each of the 60 exquisitely appointed accommodations have been individually adorned with a collection of art and books relevant to one distinctive topic within the category of the floor it belongs to.
Hotel amenities include 24-hour a day complimentary refreshments, including a European style deluxe Continental breakfast buffet each morning, wine and cheese receptions every evening from 5pm to 8pm, international coffees, teas, cookies, and fruit throughout the day, complimentary high-speed wireless Internet access throughout the hotel, a selection of newspapers, magazines and books, a DVD library, passes to the nearby NY Sports Club, turndown service with bottled spring water and Belgian chocolates, and complimentary cable television, including premium movie channels.
The Library Hotel's list of honors and awards include:

Top 50 Hotels in New York City - Michelin Guide 2006
Voted Top Ten hotels in New York by members of TripAdvisor.com
2007 Best of City Search Honors: Top Ten Best Romantic Hotels, Top Three Best Luxury Hotels, Top Five Best Tourist Hotels], Editorial Winner - Best Hotel Staff
About HK Hotels:
The innovative and much acclaimed HKHotels collection includes the glamorous Hotel Giraffe on 26th and Park Avenue South; the book-lovers paradise, The Library Hotel on 41st and Madison Avenue; the country French style Hotel Elysee on East 54th and Madison Avenue; and the Moroccan motif Casablanca Hotel on 43rd just off Broadway. Currently, designs for new HKHotels are in the works in other key locations in the US, Canada and Europe.
###