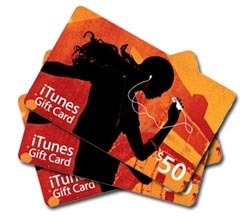 We don't just offer the chance to win the iTunes gift card, we also add value to our newsletter recipients by including exclusive deals, travel tips and reviews on different destinations each month
St Augustine, FL (PRWEB) May 16, 2008
Trusted Tours and Attractions, an industry leader in the discount travel industry, has announced an online contest that will reward one of its newsletter subscribers or contest bloggers with a $150 iTunes gift card.
To be eligible for entry into the contest, participants must either subscribe to Trusted Tours discount travel ideas newsletter that delivers monthly insights and special offers for travel destinations, or blog about the contest on their blog and link to the newsletter. Entries for the contest close on May 31st, 2008.
"We are a company that prides itself on recommending discount travel packages based on feedback from direct sources. Our bloggers play an important part in this, which is why we're offering them double the chance at winning when they blog about the most interesting spring travel trip they have taken," says John Stavely, Director of Historic Entertainment at Trusted Tours.
Doubling the chance of winning for bloggers requires them to mention the Trusted Tours Newsletter page in their post about a memorable travel experience. For instant entry into the contest, once the blog has been posted and bloggers have subscribed to the newsletter, an email with the link to their post should be sent to jstavely @ trustedtours.com.
The winner of the contest will be randomly drawn from the list of email subscribers and blog entrants on May 31st 2008. The winner will be notified via email. No purchase is required to win.
"We don't just offer the chance to win the iTunes gift card, we also add value to our newsletter recipients by including exclusive deals, travel tips and reviews on different destinations each month," said Stavely.
This month's newsletter showcases the Trusted Tours.com insider knowledge gained only through first-hand experience with a focus on the best discount travel and things to do in Miami. Complementing the newsletter is the Trusted Tours Travel Guide blog that offers fun and informative travel adventures, photos and advice.
Trusted Tours ensures that their business practice is synonymous with their name, with a guarantee that each sightseeing tour is objectively reviewed. To further their reputation as a trusted source of information, each customer who has purchased a ticket through Trusted Tours is encouraged to rate and review their experience.
About Trusted Tours & Attractions: Trusted Tours & Attractions (http://www.trustedtours.com) provides easy and safe online ticketing for numerous sightseeing tours, attractions and museums. TrustedTours.com is a division of Historic Tours of America, a leader in the family and heritage tourism industry for over 25 years that owns and operates a variety of sightseeing tours, museums and attractions in six different U.S. cities. The company also publishes a travel guide, continuously updated with stories from unique and exciting travel destinations at: http://guide.trustedtours.com/.
###