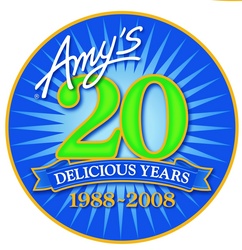 All we wanted to do was create a business that would allow us to earn a living by providing convenient and tasty natural vegetarian meals for people like ourselves, who appreciated good food, but were often too busy to cook from scratch.
Santa Rosa, CA (PRWEB) May 19, 2008
Twenty-one years ago, Amy Berliner was born. The company that became her namesake was founded a few months later, in 1988, by mom Rachel and dad Andy--longtime vegetarians. Amy is now a sophomore in college, and Amy's has become the nation's top-selling brand of natural and organic convenience foods.
"We didn't set out to become the nation's leading natural frozen food brand," says Andy Berliner. "All we wanted to do was create a business that would allow us to earn a living by providing convenient and tasty natural vegetarian meals for people like ourselves, who appreciated good food, but were often too busy to cook from scratch."
The idea for the company was born one night when Amy was just a few weeks old. Rachel sent Andy to a natural foods store with instructions to find a quick and easy vegetarian meal for dinner. He came home with their first microwavable meal. "It was horrible," he recalls. Realizing that other people must also be looking for a quick-yet-tasty meal of the nontraditional kind, Rachel and Amy devised a plan to start making great-tasting convenience food for vegetarians.
The company started on a shoestring, with Rachel and Andy's house and barn as headquarters. The founding meetings were held in the same room where the two were married and where Amy was born. The company's first product, Vegetable Pot Pie, became an instant success. When the pies hit regional markets, Northern Californians gobbled them up and, within months, they landed on health food store shelves nationwide. Other products followed in rapid succession, and the two entrepreneurs discovered that their products were not only being eaten by vegetarians and those interested in natural foods, but by millions of people looking for great-tasting, convenience foods.
Since then, Amy's has created more than 150 products, including 115 frozen items (pizzas, pocket sandwiches, pot pies, entrées, bowls, snacks and whole meals) and a grocery line that includes canned soups, beans and chili, as well as jarred pasta sauces and salsas. Today, the company has two beautiful facilities in California and Oregon and distributes its products to natural food stores, supermarkets and club stores across the nation, as well as to Canada and abroad.
Besides traditional American favorites, Amy's chefs draw on rich ethnic traditions to create authentic Mexican, Italian, Asian, and East Indian meals for their customers to enjoy. Always on the lookout for new and innovative dishes, Amy's recently introduced four varieties of lightly sweetened, slow-cooked frozen cereal in a bowl. The company also has a brand new line of Kids' Meals geared to the tastes and portion preferences of children (if only Amy were a toddler again!).
Always attentive of the special dietary preferences of its customers, Amy's Kitchen also provides soups and meals that are lower in sodium, as well as many gluten free and vegan choices. For all of its products, Amy's uses certified organic ingredients, including vegetables, grains and fruits grown without pesticides. Fats are used sparingly and selectively; all dairy ingredients are made with pasteurized rBST hormone free milk and do not contain animal enzymes or rennet. No dishes contain meat, fish, poultry or eggs. Amy's products are non-GMO and do not contain hydrogenated fats or oils.
Andy and Rachel, who imagined Amy's as a niche business back in the 1980s, unwittingly rode a tidal wave into the next decade. Their business grew an average of 20% per every year since 1988, with their success mirroring the rise of the organics movement.
In spite of their phenomenal growth and in spite of being an industry giant, Amy's remains a family effort--with Andy as CEO, Rachel as Director of Marketing, Eleanor writing Web and packaging copy, Amy helping in the plant during summers, and everyone participating in taste-testing. Just like the first veggie pie back in 1988, each Amy's recipe is still made from scratch.
"Amy's is just a large kitchen," says Rachel Berliner. "While our pots may be large, the techniques for preparing food are much the same as those used in cooking at home." Each burrito is hand rolled, each pizza crust hand stretched and topped, and broccoli is hand placed in the pot pies. "From choosing the very best ingredients, to baking pastry to perfection, every detail is given our full attention. We are cooking for you in the same way you would cook for yourself." In fact, the Amy's plant has twice the national average of the number of people involved in making a unit of food.
Rachel and Andy Berliner are available for interviews by arrangement.
Please contact Debby Fortune for more information: fortunepr @ aol.com or 510-548-1097.
# # #