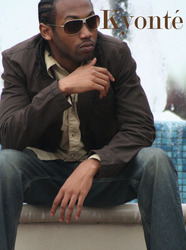 Washington, DC (PRWEB) May 18, 2008
DC's hottest new R&B artist Kyonté, will grace the stage for two live sets at Georgetown's Blues Alley located at 1073 Wisconsin Avenue Washington, DC on Monday, June 2, 2008 at 8 p.m. and 10 p.m.
Classically trained singer/songwriter/producer, Kyonté's soothing and soulful music will captivate you! His delivery has been described as energetic, uplifting, and timeless; matched with the stage presence synonymous with many past "Greats". With his most recent co-production on Grammy nominated Raheem DeVaughn's, "Woman", this and a variety of other collaborations have lauded him accolades in several genres.
He is currently writing and recording for his debut album and will perform new music and a few of his smooth and sensual hits from the past. His talent and dedication, is sure to deliver a variety of quality songs that will captivate and inspire.
One of the most well-rounded and delightful new faces in the music industry, Kyonté is sure to give you all the ear candy you can handle. He is eager to share his gifts, creations, and experiences with you.
Blues Alley is located in the heart of historic Georgetown in Washington DC, in an 18th century carriage house and specializes in authentic Creole cuisine, steak, and seafood dishes. Purchase tickets directly through the bluesalley website or call 202-337-4141.
Diamond Management is an artist management and consulting company. HilHouse LLC is a production and entertainment company. Kyonté is our featured artist.
For more information, to request a demo, or to schedule an interview contact Diamond Management at 301-356-1598 or email diamondmgmt@gmail.com.
# # #