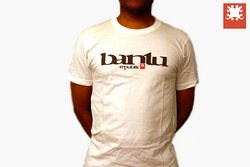 Bantu Republic's designs are like an activist newsletter you can wear
New York, NY (PRWEB) May 20, 2008
There once was a time when fashion had a conscience, when it meant something, said something and made a difference. Bantu Republic is bringing those days back.
Officially launching online on Tuesday May 20, 2008, Bantu Republic will offer compelling socially conscious t-shirt designs that will challenge our perceptions of important issues shaping our culture and defining our world.
The birth of Bantu Republic is the natural response to an urban fashion industry flooded with uninspired copycat designs and conformist brands that lack substance, meaning and historical relevance while aggressively "infantilizing" the fashion public and causing harm to the environments and communities that produce them.
Bantu Republic's ethically made, socially conscious fashion designs illustrate the dynamics of important socio-economic issues, blending substance into style in celebration of truth and freedom while also challenging our perceptions on the issues shaping our culture and defining our world through their intelligent and compelling design.
"Bantu Republic's designs are like an activist newsletter you can wear," says Bantu Republic's co-founder, Banele Nkhosi.
For more information on the Bantu Republic socially conscious fashion brand, including the design gallery, press images and video, please visit: banturepublic.com and banturepublic.tv.
###