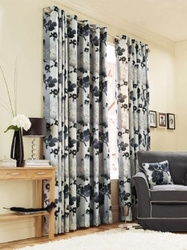 UK (PRWEB) May 17, 2008
Plumbs have traditionally catered for the Made to Measure Curtain market but with the launch of the new site have begun offering Ready-made curtains at great prices. Plumbs also now offer curtain fabric priced per metre for budding upholstery enthusiasts to produce their own unique curtains or to use on many other soft furnishing projects. Sensationally, prices start at just £1 a metre for fabric offering hundreds of fabric options.
Ready made curtains are always popular because they offer great value, with prices starting from just £35 a pair. From Deep red velvet to Cool cotton naturals or just something cheap to deflect the sun's rays, plumbscurtainshop can answer all needs.
All Plumbs' products are guaranteed for 12 months from the date of purchase. The guarantee covers any fault occurring as a result of fair wear and tear or quality of materials and / or workmanship. If any product purchased under the terms of our guarantee fails to give you complete satisfaction we will offer you a full replacement. Even better is that plumbscurtainshop offer a no risk 30 day money back promise on everything.
Sarah Plumb, from the Plumb family said, "After 45 years we have become known for being a U.K. manufacturer with a reliable record for quality and good service. Cheap imports from across the globe mean low prices are available to anyone. However here at Plumbs we not only offer low prices but we can also offer quality as we make everything ourselves here at our factory in Lancashire. Plus you have the added advantage of a full money back guarantee"
The last couple of years has seen a great increase in curtain popularity not only for decorative and security reasons but increasingly as an energy saving measure. Curtains can really make a difference to insulating the home and preventing heat loss. Curtains work well in the Summer time too by helping to deflect the sun's rays and keep the home cool.
To celebrate the launch of the site, from the 22nd May Plumbs will discount the first 20 orders by 50%! Simply enter the discount code "crazy" in the shopping basket when placing an order. This discount is on the basket value so will run in conjunction with any other offer.
So if you are looking for great value curtains and fabrics, take a look at http://www.plumbscurtainshop.co.uk today.
About Plumbs
With seven laser cutters, and a team of 50 C.A.D. designers we will design and cut your made to measure curtains to fit perfectly, right down to the smallest detail. This combination of traditional skills and the very latest technology produces individually hand tailored curtains with a superb fit. Our ready made curtains are also made by the same experienced team.
Plumbs also offer loose sofa covers solutions & upholstery services. With over 350 different upholstery fabric designs and colours to choose from, and a range of materials to suite any piece of furniture, the choice is down to you.
Media Contacts for Plumbs
For more information, images or interviews please contact Simon Blackburn at Plumbs on 01772 838300. Alternatively, email sblackburn(at)plumbs.ltd.uk.
# # #