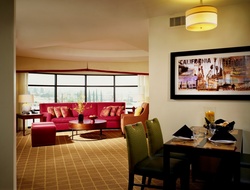 We conceived the hotel to be a landmark in a city that is reinventing itself as the entertainment center of the world
Irvine, CA (PRWEB) May 18, 2008
Irvine-based R.D. Olson Development has announced its sale of two Marriott Residence Inn hotels to Apple REIT Eight for $80 million. R.D. Olson completed development of both hotels, the Marriott Residence Inn, Burbank at 321 S. First St., which is inspired by classic Hollywood and Marriott Residence Inn, Oceanside at 3603 Ocean Ranch Blvd., which portrays Southern California's beach culture. Both hotels were completed last year.
R.D. Olson Development purchased the development sites in 2005 and 2006 respectively. The hotels opened in 2007 under the Marriott International Marriott Residence Inn brand. Since then, occupancy has soared and the hotels each have a 95 percent customer satisfaction rating.
"By placing flags on the site that are geared toward that specific market and adding amenities that fit within the culture of each community, we've capitalized on our investments in a short time," said R.D. Olson Development CEO/President Robert Olson.
The Burbank Marriott Residence Inn is a prime example of how R.D. Olson Development has enhanced the already-established Marriott Residence Inn hotel brand, by enriching it with the flavor of the community. Olson commissioned renowned British artist, Peter Fink to create a spectacular lightshow that scales the exterior of the five-story Burbank Marriott Residence Inn as a tribute to the television industry capital of the world. The interior of the 166-suite hotel exudes Hollywood flavor, featuring artwork originally produced in Burbank from the 1950s to the 1990s.
"We conceived the hotel to be a landmark in a city that is reinventing itself as the entertainment center of the world," said Olson.
Away from the fame of the Burbank name, R.D. Olson developed the 125-suite four-story Residence Inn by Marriott in Oceanside that reflects the easy lifestyle of a community that is home to surfers, beachcombers and even longtime surfer-girl starlet, Gidget. Original paintings by local artists that echo Southern California's easy Southland lifestyle dress the walls and a community patio fire pit enveloped by couches give way to outdoor comfort.
Marriott Residence Inn, Burbank and the Marriott Residence Inn, Oceanside were built by R.D. Olson Construction, also owned by Robert Olson. The company is a leading builder of hotels and restaurants alike.
In lieu of the sell, R.D. Olson Development also has seven other projects in the making including Palomar Hotel, Tustin, Calif. and Denver, CO; Residence by Marriott, Goleta, Calif.; and Hilton Garden Inn, Tustin.
The company will soon open another development, the Renaissance ClubSport in Aliso Viejo., in which it, once again, has culled from local community culture to build upon an established brand. In this joint venture between R.D. Olson Development and Leisure Sports Inc., the up-and-coming city will enjoy a boutique hotel, world-class fitness center and full-service day spa. Renaissance ClubSport is scheduled to open this June.
R.D. Olson Development was founded by Robert Olson in 1998. It has since been established as a leading hotel developer. Projects developed and sold include an eight-story 174-suite Marriott Residence Inn, Irvine; a $62 million resort in the Anaheim Resort Zone, which consists of a seven-story Staybridge Suites and nine-story Holiday Inn; and an eight-story 526-bed University Village Towers, an upscale student housing project bordering the University of California, Riverside. R.D. Olson Development is located at 2955 Main St., Irvine, CA 92614.
###