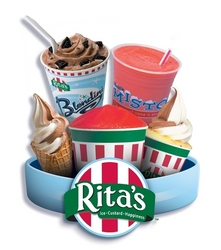 Trevose, PA (PRWEB) May 18, 2008
Rita's Water Ice Franchise Company, headquartered in Trevose, PA, is the largest Italian Ice concept in the nation. Rita's is currently awarding franchises in 21 states with over 500 stores open and 400 in development. New York is the latest state to enjoy Rita's Ice Custard Happiness™. Rita's was named a "Top Performing Franchise" by StartupJournal.com, The Wall Street Journal's Center for Entrepreneurs.
Rita's Water Ice continues its quest to bring its Ice, Custard, and Happiness™ across the country by entering new markets like New York. Rita's provides all of its Franchise Partners the support and guidance they need to satisfy our customers and build brand loyalty.
The chain offers a variety of frozen treats including its famous Italian Ice, Old Fashioned Frozen Custard and layered Gelati as well as its signature Misto™ shake and Blendini™ creations. Rita's signature product is its Italian Ice (often referred to as water ice) which is smoother than a snow cone and combines ice with real fresh fruit; mixed on-site in batches and served within 36-hours. Real fruit adds dramatically to the taste of the ice, which comes in over 39 different flavors.
Flavors of Rita's Ices include Lemon, Mango, Green Apple, Raspberry Lemonade, Kiwi-Strawberry and Cherry, just to name a few. Rita's also offers Cream Ice -- Italian Ice flavors that are as smooth and silky as ice cream. Cream ice flavors include Cappuccino Cream, Chocolate Cookie Dough, Mint Chocolate Chip, Fudge Brownie, Banana Split Cream and more. Sugar-free flavors are also available. Rita's Ices are fat free, nut free, cholesterol free and are kosher.
For more information about Rita's Water Ice, contact our Franchise Department at franchise_sales @ ritascorp.com, 1-800-677-RITA (7482) or visit http://www.ritasice.com.
###