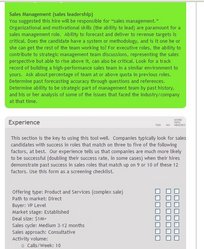 Over the past several years, Corel has undergone significant growth, broadening its software portfolio with the integration of new companies and award-winning products including WinZip, WinDVD, Video Studio and Paint Shop Pro Photo
Ottawa, ON (PRWEB) May 20, 2008
Peak Sales Recruiting Inc., a head-hunting firm that helps technology companies build revenue by putting the right people on the sales team, today announced the debut of a new interactive tool. The Sales Role Analyzer, free on Peak's website at peaksalesrecruiting.com/stepone, allows technology companies to identify the factors critical to a successful sales hire.
High tech companies pay the price of poor sales hiring practices, with annual turnover of salespeople at 30 per cent, according to human resources trends analyst Culpepper. Research suggests that nearly 65 per cent of salespeople who fail could have succeeded if properly matched to the sales role (Wright State University as cited by HR Chally in Selling Power Magazine, 2007). The inefficiency is costly.
Through the rigorous application of its process, of which evaluating the sales role is step one, Peak's success rate in sales hiring is close to double the average.
By using the Sales Role Analyzer as a starting point for sales recruitment, technology companies can avoid common and costly hiring pitfalls that throttle revenue growth and derail sales strategies. Properly evaluating the sales role allows companies to create a profile of the ideal hire and a structured way of screening candidates.
"Over the past several years, Corel has undergone significant growth, broadening its software portfolio with the integration of new companies and award-winning products including WinZip, WinDVD, Video Studio and Paint Shop Pro Photo," said Peter Lalonde, Director of Sales at Corel Corporation. "To support our continued growth, we needed to ensure we had the right sales force in place. Peak Sales Recruiting helped us address that challenge, providing us with an in-depth analysis of our selling environment and customizing our recruiting programs to meet Corel's specific needs. Now with their new, free online tool, other technology companies can ensure they make the right sales hires the first time, saving valuable time, money and driving improved sales performance."
The Sales Role Analyzer's online form prompts hiring managers and human resources professionals to ask questions that may not have occurred to them, questions pertaining to the product's path to market, sales approach and other factors that contribute to the makeup of the sales role. The critical success factors are thereby captured in an easy-to-use document that can be integrated into the screening and evaluation process.
The Sales Role Analyzer kicks out a checklist of factors to consider when matching the candidate's experience and skill set to the company's actual requirements. With this tool, technology companies can vastly improve the chances of making a successful hire from the top percentile of qualified sales candidates.
About Peak:
Peak Sales Recruiting is focused on helping technology companies build revenue. Peak's rigorous process ensures its clients are able to hire better performing sales people more quickly. Please visit the Peak website or call (613) 233-8999. The company blog, The Art and Science of Tech Sales, can be found at http://www.peaksalesrecruiting.com/blog.
Any trademarks used in this document are the property of their respective owners.
###