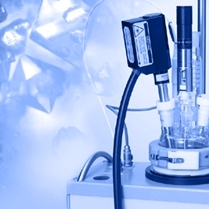 Columbia, MD (PRWEB) May 18, 2008
METTLER TOLEDO invites you to download a PDF copy of a recent Crystallization Scale-up article by Des O'Grady et al. The article focuses on practical guidelines for the design and scale-up of crystallization that can consistently ensure the desired product form and quality, while also avoiding downstream bottlenecks due to poor filtration and drying performance. Application of Process Analytical Technology (PAT) can dramatically reduce the time required to develop an optimized crystallization process that can be scaled-up within the constraints of available production vessels.
The lead author, Des O'Grady, performed Ph.D. level research on the scale-up of anti-solvent crystallization at University College Dublin. He is now employed as a Technology and Application Consultant for METTLER TOLEDO in the US.
For a limited time, the Crystallization scale-up article can be downloaded for free.
###