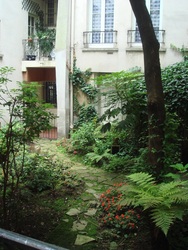 Living and Investing in France Real Estate Conferences
Paris, France (PRWEB) May 19, 2008
In a May 14, 2008 New York Times article by Linda Hervieux, Adrian Leeds, Director of Adrian Leeds Group, LLC, affirmed that due to the dwindling dollar, fractional ownership is one of the most affordable ways to realize the dream of owning property in Paris or France.
A hybrid of direct ownership and time sharing, fractional ownership, also called shared ownership, combines the best elements of both. The primary differences are that while timeshares involve many shares in a large complex with "resort" amenities and costs built specifically for that purpose, fractional ownership is joint ownership by only a few individuals in a single property whose value can easily be determined on the open market.
"French Property Fractional is the newest and hottest way to own your own piece of Paris simply, easily and inexpensively without the hassles of purchasing it on your own, but with all the benefits of doing it yourself," says Ms. Leeds, considered an expert on living, investing and purchasing property in Paris and France. "The declining dollar means that people saving their money with the dream of buying property in Paris have less to spend. With fractional ownership, they can make an important investment in a euro asset at a fraction of the cost."
While most fractional ownership properties have already been purchased, renovated and decorated by one developer who then sells off the shares, French Property Fractional offers a unique opportunity: a chance for investors to design their own fractional ownership property, a "pied-à-terre" in the popular Marais district of Paris. Those interested in the option of shared home ownership can contribute to an investment pool, then Paris property search professionals will find the ideal apartment, based on agreed upon specifications.
The Adrian Leeds Group, LLC also offers existing fractional ownership properties in Paris and throughout France through partners Steve Navaro of Paris Home Shares, Ginny Blackwell of French Property Shares and Château Living France.
In addition, Adrian Leeds hosts the "Living and Investing in France Real Estate Conferences," bringing together real estate, financial and legal experts from the U.S., France and Europe. Fractional ownership will be a hot topic of discussion at the upcoming conferences in London on June 22, 2008; San Francisco July 26-27, 2008 and Paris October 11-12, 2008. All the details can be found at http://www.FrenchPropertyConference.com.
Adrian Leeds of the Adrian Leeds Group, LLC, is author of the twice-weekly newsletter http://www.ParlerParis.com, editor of the weekly http://www.FrenchPropertyInsider.com E-zine, and co-founder of the http://www.ParlerParlor.com French-English Conversation Group. As Director of French Property Consultation, she and her team of property professionals provide comprehensive search, purchase, renovation services, offer mortgage brokerage through http://www.FrenchPropertyLoan and offer charming and luxurious vacation rentals through http://www.ParlerParisApartments.com
Contact:
Adrian Leeds
http://www.AdrianLeeds.com
Info @ AdrianLeeds.com
+1 (310) 427-7589 (Paris Time)
# # #