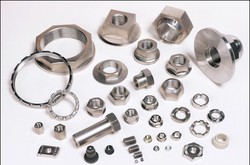 Torrance, CA (PRWEB) May 20, 2008
While many engineers gravitate toward lock washers, prevailing torque fasteners, adhesives or other common choices, these may be inappropriate or have considerably higher total costs over the product lifecycle.
No matter how clever the engineering or robust the components, the end product is only as reliable as its weakest link -- which, too often, are the fasteners holding everything together. Though self locking threaded fasteners and thread locking self locking fasteners may be viewed as commodities, they're critical especially in any application where failure could be costly or disastrous.
Most locking fasteners do not address a basic design problem with the standard 60-degree thread form: that the gap between the crest of the male and female threads can lead to vibration-induced thread loosening. Stress concentration and fatigue risk at the first few engaged threads is also a problem, along with an increased probability of shear, especially in soft metals, due to its tendency toward axial loading. Temperature extremes can also expand or contract surfaces and materials, potentially compromising joint integrity.
Engineers, however, have successfully attacked these challenges while reducing component weight and enabling re-usability up to 50 times with innovative Spiralock self locking threaded fasteners. This re-engineered thread form adds a unique 30-degree wedge ramp at the root of the thread which mates with standard 60-degree male thread fasteners.
The wedge ramp of the self locking fasteners allows the bolt to spin freely relative to female threads until clamp load is applied. The crests of the standard male thread form are then drawn tightly against the wedge ramp, eliminating radial clearances and creating a continuous spiral line contact along the entire length of the thread engagement. This continuous line contact spreads the clamp force more evenly over all engaged threads, improving resistance to vibrational loosening, axial-torsional loading, joint fatigue, and temperature extremes.
The innovative self locking threaded fasteners thus compensate for variations in manufacturing tolerance and process due to mass production with its locking thread actually inside the joint. This eliminates the need for secondary thread locking devices or procedures, and can significantly reduce costly warranty claims and potential liability. The self locking fasteners have been used in thousands of manufacturing applications to solve design challenges in a wide range of industries.
Production changeovers to these self locking threaded fasteners are typically quick and seamless, often requiring just an exchange of traditional nuts, wire inserts or simply drilling out and re-tapping existing parts stock that have unreliable standard tapped holes.
Spiralock
Kate Turowska
Madison Tech Center
PO Box 71629
Madison Heights, MI 48071
KTurowska(at)spiralock.com
http://www.spiralock.com
Phone (800) 521-2688
###