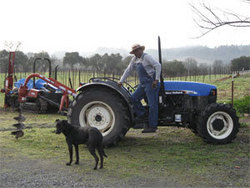 If you drive up from the city to see me, shouldn't I take the time to sit down with you and explain the wines to you?
San Francisco, CA (PRWEB) May 20, 2008
Vision Cellars's founder Mac McDonald was featured in an in-depth profile published by the San Francisco Chronicle wine section. A Vintner's Vision. The San Francisco Chronicle is the only American newspaper to feature a weekly section dedicated exclusively to wine.
The article reveals McDonald's down to earth style, hands-on approach, and winning personality. "If you drive up from the city to see me, shouldn't I take the time to sit down with you and explain the wines to you?" asks McDonald. "In most cases, when you go to a tasting room, you don't get to see the guys who actually make the stuff. I just can't get adjusted to somebody who can't take the time to be with someone who is going to spend money on their wine." McDonald plans to turn an old barn into a tasting room for Vision Cellars, which will be completed next year.
The Chronicle's profile of McDonald covers his first taste of wine as a 12-year old boy in East Texas and how he has wanted to be a winemaker ever since. Winemaking became McDonald's hobby during his 33 years as a Pacific Gas & Electric employee. Today, McDonald buys grapes for his most celebrated wines from Garys' and Rosella's Vineyards in the Santa Lucia mountains and collaborates with Caymus Vineyards to produce about 2000 cases per year. He planted his own vineyard in Sonoma County that is expected to produce fruit in about three years.
The Chronicle piece also explains the vintner's vision for bridging the gap between African Americans and the wine industry. With two partners, McDonald founded the Association of African American Vintners ten years ago. One of the goals of the association is to educate African Americans about the possibilities of careers in the wine industry. The association also sponsors an annual event at Copia, a cultural and educational center devoted to wine in Napa, California.
About Vision Cellars
Founded in 1995, Vision Cellars (Visioncellars.com) is an award-winning Sonoma County winery specializing in Pinot Noir. The goal of Vision Cellars is to capture the essence of the Pinot Noir grape by acquiring the best fruit available and producing small batches of superb wine. Vision Cellars wines have been lauded by Wine Spectator and Wine Enthusiast Magazines and are featured at many prestigious Bay Area restaurants including Rubicon, Plumpjack, Postrio, and La Folie. Vision Cellars is a proud member of the Association of African American Vintners. For more information you can visit Mac and his wines at http://visioncellars.com.
# # #