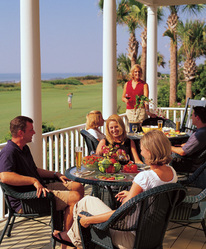 Charleston, SC (PRWEB) May 21, 2008
With all the talk about what to do with tax rebate checks once they arrive, ResortQuest on Charleston's Islands is offering its Top 10 reasons to choose Charleston's beach resorts for a relaxing vacation. Those tax stimulus dollars will not only serve to reinvigorate the economy, but also allow you to renew, reclaim and recharge your batteries, a necessary component to good health. Stress and burnout are potent adversaries in the battle for wellness, and the Charleston area, with its temperate climate, miles of unspoiled beaches, family-friendly fun, plus sightseeing and historic attractions, is the perfect place to declare yourself a winner.
10 reasons to vacation at a Charleston beach resort:
1. To use ResortQuest's new "Specials Booking Engine" to find the latest special offers.
2. Kiawah Island's award-winning 10 Mile Beach.
3. Kiawah Island has four award-winning golf courses, including the Ocean Course, the site of
the upcoming 2012 PGA Championship.
4. Kiawah's tennis facilities are always in Tennis Magazine's Top Three.
5. Charleston was named a Top Food Destination by Travelocity in 2007.
6. Charleston won Favorite City and Best Shopping-2007 Southern Living Readers.
7. To see the Angel Oak, the oldest living thing east of the Rockies.
8. To tour Drayton Hall, the oldest, and one of the finest surviving examples of Georgian Palladian
architecture in the U.S.
9. To rent bikes and ride 30 miles of paved trails and 10 miles of beach.
10. To take a walking tour of Charleston or a Sunset Sail on Charleston Harbor.
ResortQuest is offering visitors to Kiawah Island, Seabrook Island, Isle of Palms and Wild Dunes exciting and exclusive ways to save, all while staying in fully-equipped private homes, villas and cottages. The area offers miles of pristine beach, championship golf, tennis, biking, nature tours, shopping, dining, water-related activities and more. A program called ResortQuest Privileges offers special rates and discounts on activities, tours, dining, and shopping from area venues.
About ResortQuest
ResortQuest, one of the nation's leading vacation rental and resort real estate companies, provides a one-stop resource in North America's premier resort destinations. ResortQuest Charleston is the largest vacation rental company serving Charleston and the beach resort islands of Kiawah, Seabrook, Isle of Palms, Wild Dunes and Sullivan's Island. ResortQuest has offices located on Kiawah Island, Seabrook Island and Isle of Palms, South Carolina.
###