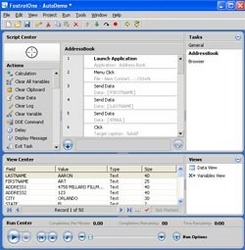 Winter Park, FL (PRWEB) May 20, 2008
Richard Milam, founder and CEO of EnableSoft, Inc., has announced the official release of the highly anticipated FoxtrotOne version 4 database automation software. The data entry automation solution, which is built around a patent-pending targeting tool, eliminates error prone and costly processes where identical data is being entered twice, or even more.
FoxtrotOne version 4, a more feature-rich release of the popular Foxtrot software FoxtrotOne version 3, also allows companies to move data between applications that do not easily share data.
"Poor data integrity caused by improper data entry is a costly problem for businesses. In a world where efficiency and productivity are huge levers for competitiveness, many companies still find themselves manually entering data twice, three times and more. FoxtrotOne eliminates this problem, saving time and helping businesses run more effectively," said Milam, CEO of Enablesoft.
Foxtrot database automation software was developed to automate double data entry. The targeting tool is part of a user-friendly GUI-based drag and drop script writing process that requires no programming for automating duplicate data entry. Each time data is targeting, the intelligence system powering FoxtrotOne software understands exactly what can be done with the data. Users simply make a selection from the 'Action List,' and then move on to the next step.
According to Milam, "We really took our time on version 4.0. We wanted to make sure that our customers would experience a noticeable leap forward in speed, reliability and data integrity. Their feedback on needs and wants really drove the process. And when the beta testers gave us an enthusiastic thumbs-up, we knew our patience had paid off."
Users report that FoxtrotOne delivers an ROI of 90 days and less. Speed enhancements make it possible to process hundreds - and sometimes thousands - of records an hour. Deployed from the desktop, FoxtrotOne data management software automatically conforms to business rules, protocols and security without any intervention required.
"FoxtrotOne version 4 really gets people who work with data excited -- and that's just what we had hoped for. Our customers get even more value from Foxtrot when they realize they can move data from one system to another, from legacy systems to current systems," Milam concluded.
About EnableSoft, Inc.: For over a decade, EnableSoft has been helping companies improve efficiencies and business processes in the world of data, resulting in improved data quality, and significant savings in both time and costs. The company's premier solution is Foxtrot Suite, a comprehensive data scripting mass maintenance and data migration system in use by more than 400 clients worldwide.
The strategically-driven Foxtrot solution helps organizations that rely on data to achieve their corporate business objectives. From banks to manufacturers to healthcare to distributors to financial services, Foxtrot data entry software works to enhance operational efficiency, saving time and money while improving data quality. For a video tour of FoxtrotOne, visit http://www.enablesoft.com/productsServices/foxtrotOne.aspx.
###