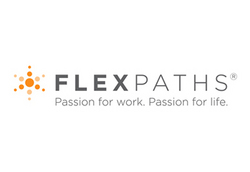 When the four of us walk into a room, the element of surprise is palpable. With a Web-based company, there's a certain expectation of what that looks like and it's not us -- moms and grandmas who also happen to be seasoned business leaders --- but the contrast works for us
Hillsdale, NJ (PRWEB) May 20, 2008
During a period when companies are cutting jobs by the thousands may not seem like the best time to launch a new human resources product suite, but FlexPaths, LLC, a provider of Web-based workplace flexibility solutions, has never been more optimistic. After all, IBM, Hewlett-Packard and Microsoft started their technology companies during recessions. Bad economic times may scare companies and freeze budgets, but companies still need to hold on to their best people and get the work done. That's why this women-owned dot-com isn't letting a possible recession deter their entrée into the marketplace.
With an executive team ranging in age from late 30s to mid-60s and nearly a dozen employees coast-to-coast and abroad, FlexPaths is like most global companies operating from multiple locations with cross-generational teams. Workplace flexibility, they say, facilitates their collaboration, operations and execution. Where FlexPaths differs is in its genesis as a dot-com company.
"When the four of us walk into a room, the element of surprise is palpable. With a Web-based company, there's a certain expectation of what that looks like and it's not us -- moms and grandmas who also happen to be seasoned business leaders --- but the contrast works for us," FlexPaths CEO and President Meryl Rosenthal says. "We didn't just create this company in a dorm room or basement. We're an experienced, credentialed management team running a business based on our experiences of how we have lived and worked. FlexPaths blends our inner passions and personal experiences with market demand."
President Turns Pink Slip into Business Plan
Rosenthal, 44, empathizes with the thousands of downsized employees, yet she was able to convert her pink slip into a new business plan. As chief-of-staff to the president at a major financial services company, Rosenthal was facing a corporate layoff in 2005 while also pregnant with her second daughter and caring for her terminally-ill mother.
"I couldn't go on working the way I was," Rosenthal recalls. "I took the severance package."
During that time she also read a Harvard Business Review article about the challenges companies faced to keep talented women in the workplace. The article hit home for Rosenthal, who had a hunch that "there was something we could do" in regards to talent, companies and workplace solutions. She partnered with long-time friend and colleague Robin Roschke, 39, now FlexPaths chief operating officer, and together they went on a listening tour at dozens of the country's top companies.
Both were surprised by the input they heard from these companies, including "Don't limit the market to just women" and "Link up with experts in the field." So in 2006, Karol Rose, now 64, andSandy Burud, now 59, two well-known pioneers in workplace flexibility who combined have published six books on the issue, joined the FlexPaths team. Burud is former president of the Alliance for Work-Life Progress, and Rose has advised Fortune 500 companies on flexibility and work-life effectiveness for more than 25 years.
The major turning point for the company came to Rosenthal when a relative advised her, "Don't just talk about it (flexibility), solve it": develop solutions that help companies use flexibility to improve performance and increase profits.
"There's no shortage of experts who praise the benefits of work-life flexibility and, increasingly, companies promote their flexible work arrangements," Rosenthal says. "However, once behind closed doors we learned even those companies considered the 'best places to work' struggled with how to use flexibility. They were confused; in fact, they were stuck. They didn't know how to make flexibility work as a talent and business management strategy."
Launch Pad for the Next Wave of Flexibility
Today, FlexPaths exists to move workplace flexibility from good intention to successful strategy. Last year, FlexPaths introduced a suite of Web-based products that offer patent-pending features, best-in-class content, interactive tools, data assessments and training materials. Early adopters include Procter and Gamble and Texas Instruments, companies who see FlexPaths as a creative and strategic resource to help manage their flexibility initiatives and link them to other business metrics.
FlexPaths offers customized internal flexibility Web sites tailored to meet the unique needs of any company in virtually every industry. Businesses use FlexPaths as their central technological platform to launch, manage and advance flexibility. Additionally, the consumer-facing Web site flexpaths.com allows employers to promote their employee brand and recruit professionals interested in working more flexibly. Individuals use this site to develop flex readiness and to find companies and communities of peers who share their flexibility values.
"FlexPaths connects companies, managers and employees who want to use flexibility to make a difference in their lives and for their companies," explains Karol Rose.
Flexibility Should Be Recession-Proof
With layoff announcements making headlines weekly, it is expected that employees will worry about job loss, but even businesses that have cut employee counts still have to keep their remaining employees engaged, productive, and loyal.
"Flexibility in where, when and how the work is done is considered a major benefit by a diverse group of highly valued employees. Now is not the time for employees to be bashful. Maybe you can't ask for a raise, a promotion or even a bonus, but you can ask for flexibility," Rose advises. "To maintain productivity and morale at this time, companies have to do more with less. With FlexPaths, flexibility becomes a strategic tool that accomplishes those objectives and positively impacts the bottom line without increasing expenses."
This press release was distributed through eMediawire by Human Resources Marketer (HR Marketer: http://www.HRmarketer.com) on behalf of the company listed above.
###