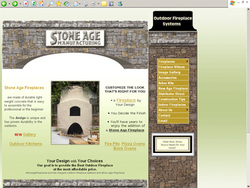 Our goal is to provide the consumer with the newest and best technology available in the fireplace market today
Broken Arrow, OK (PRWEB) May 20, 2008
Stone Age Manufacturing, one of the premier suppliers of old fashioned masonry products, has added a variety of new features to their website in light of the approaching summer season. New video, construction tips, and an expanded photo gallery of outdoor kitchens now greet visitors at StoneAgeFireplaces.com.
The new additions come in time for the summer, which Stone Age Manufacturing believes is the perfect time to purchase an outdoor fireplace kit. As the temperature rises and homeowners become more interested in outdoor entertaining, the need for an aesthetically pleasing, functional space also increases, and that is where Stone Age Manufacturing comes in. The new website features provide potential customers with a better idea of what exactly Stone Age Manufacturing offers and also provide post-purchase assistance to customers assembling their new outdoor fireplace kit.
"Our goal is to provide the consumer with the newest and best technology available in the fireplace market today," says Joe Rider, President of Stone Age Manufacturing, "The expanded photo gallery of outdoor kitchens and fireplaces exhibits some of the beautiful work that Stone Age Manufacturing has been a part of while the video demonstrations show customers exactly how to put the products together."
The products that Stone Age Manufacturing specializes in include outdoor fireplaces, kitchens, outdoor kitchen island kits, pizza ovens, brick ovens, fire pits, fireplace accessories, and arbor kits to complement the old fashioned masonry. While many consumers have sacrificed longevity and quality for convenience and price over the past 25 years, Stone Age Manufacturing continues to offer a product that will stand up to the harsh elements of any outdoor climate. Stone Age Manufacturing's products will not rust or rot and they are eager to prove that to potential customers.
"A Stone Age Fireplace offers you a lifetime of use and enjoyment with the least amount of maintenance of any fireplace on the market," say Rider. "In addition, Stone Age Fireplaces are made of durable, light-weight concrete that is easy to assemble for the professional or the beginner."
Rider takes pride in the fact that three generations of masonry fireplace knowledge have been incorporated into Stone Age Manufacturing's fireplace kits, and hopes that the new website features will encourage more customers to experience the products for themselves. For more information, please visit StoneAgeFireplaces.com.
About Stone Age Manufacturing:
Stone Age Manufacturing is a premier supplier of old fashioned masonry products based in Collinsville, Oklahoma. Their website, StoneAgeFireplaces.com features outdoor fireplaces, kitchens, brick ovens, pizza ovens, fire pits, fireplace accessories, and arbor kits. President Joe Rider has over 30 years of masonry experience.
###