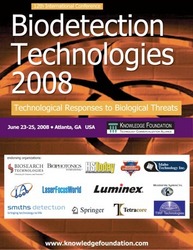 Boston (PRWEB) May 20, 2008
The Knowledge Foundation announced today that more than 100 organizations from around the world will participate in the 12th Biodetection Technologies conference to be held in Atlanta, GA from June 23-25, 2008. Delivering this year's opening keynote address will be Robert Hooks, the Deputy Assistant Secretary for WMD and Biodefense from the U.S. Department of Homeland Security.
Biodetection Technologies is an internationally recognized event for experts in detection and identification of biological and chemical threats and will explore the latest R&D developments and ready-to-market technologies for:

PCR and Non-PCR Nucleic Acids Based Detection
Reagent / Reagentless or Biosensor Based Detection
Point-of-Care Methods / Toxin and Pathogen Detection
Exploiting Bacteriophage for Biological Threat Response
Participating organizations include: 3M, Aerosol Dynamics Inc., Agilent Technologies, Air Force Research Laboratory, Andhra University, ANP Technologies, Applied Biosystems, A-TEK, Auburn University, Battelle, BD, BioMerieux, Bio-Modeling Systems, Biophage Pharma Inc., BioPhotonics International, Biosearch Technologies, Brandeis University, CBRTA, Cellex, Inc., Centers for Disease Control and Prevention, CFD Research Corporation, Clarke Consulting, Colorado School of Mines, Colorado State University, Constellation Technology, Corbett Robotics, CRIFS, CUBRC, Decision Sciences Corporation, DOD Veterinary Food Analysis & Diagnostic Laboratory, Domestic Preparedness, DSO National Laboratories, DTRA - CB, Emergent Technologies, Federal Center for Animal Health, GE Global Research Center, George Mason University, Georgia Institute of Technology, Hamilton Sundstrand, HSToday, ICx Biosystems, ICx Technologies, Inc., Idaho Technology, Inc., Innovative Biosensors, Inc., Intel Corporation, International Association of Nanotechnology, Invitrogen Corporation, JMAR Technologies, Inc., Johns Hopkins University, Kiwa Water Research, Knowledge Press, Laser Focus World, Lockheed Martin, Luminex Corporation, Meso Scale Diagnostics, LLC, Microbial-Vac Systems, Inc., Midwest Research Institute, Millipore Corporation, MITRE Corp., National Cancer Institute, National Center for Biodefense and Infectious Diseases, National Oceanic and Atmospheric Association, Naval Research Laboratory, New Horizons Diagnostics Corporation, Nippon Telegraph and Telephone Corporation, Northeast Normal University, Northrop Grumman, NYSDOH Wadsworth Center, Oceanit, Pacific Northwest National Laboratory, Pall Corporation, Penn United Technologies Inc., Pherecydes Pharma, San Diego County Animal Disease Diagnostic Lab, Sheffield Hallan University, Smiths Detection, SourcePharm, Inc., Southern Research Institute, Springer, Statens Serum Institut, Stratophase Limited, Tetracore, Inc., Texas A&M University, The Knowledge Foundation, TIRF Technologies, Tokyo Institute of Technology, U.S. Army JPM NBCCA, U.S. Department of Homeland Security, U.S. Food & Drug Administration, U.S. Government Accountability Office, University of British Columbia, University of Guelph, University of Maryland, University of Nebraska, University of South Florida Center for Biological Defense, University of Tennessee, University of Washington, USAMRIID, Washington Headquarters Services, Zen Sensing LLC, and Zenteris GmbH.
About The Knowledge Foundation
The Knowledge Foundation integrates scientific ingenuity and real-world applications by fostering collaborative research at the rapidly changing intersection of science and business. Known for providing its members with direct and unbiased state-of-the-art scientific information, The Knowledge Foundation is uniquely qualified to provide wider exposure for important developments in the emerging fields of alternative energy, nanotechnology, and chemical/biological detection technologies.
###