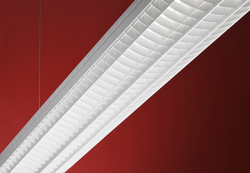 Hanson, Mass. (PRWEB) May 20, 2008
Litecontrol, a leader in quality architectural Lighting Systems, is proud to announce its new Radi-X Lighting Fixture. The Radi-X Lighting Fixture combines a traditional steel fixture body with an exclusive new sustainable baffle material called LiteCycle resin, which consists of 50 percent recycled content that can be completely recycled when removed from the building. The Lighting Fixture was designed with classrooms in mind, and addresses the lighting needs of both teachers and students through the indirect/direct lighting distribution option. Electrical Contractors also benefit from the new features of the Radi-X Lighting Fixture, which allows for easy installation and maintenance compared to other Lighting Systems.

Exclusive LiteCycle Resin used for Energy-Efficient Lighting: The Radi-X Lighting Fixture is available with Energy-Efficient Lighting features that permit energy savings and design flexibility within schools, stores, and office buildings. The two or three lamp option of this Lighting System allows for A/V mode, while an integrated daylight harvesting system for Energy-Efficient Lighting helps to meet CHPS and LEED program standards and energy codes required by some schools. The Radi-X Lighting Fixture is Cradle to CradleCM (C2C) Silver Certified, which exemplifies Litecontrol's commitment to leading the lighting industry into a more sustainable way of doing business.
Quality innovative Lighting Fixtures and Lighting Systems: Litecontrol offers a broad range of high design and performance lighting products. For more information on Litecontrol's Radi-X Lighting Fixture and other Energy-Efficient Lighting and architectural Lighting Systems, please visit http://www.litecontrol.com/products/visual_index.php.
About Litecontrol
Litecontrol (http://www.litecontrol.com/) has been a leader in architectural interior lighting since 1936. A designer and manufacturer of top quality, Cradle to Cradle Certified lighting fixtures, Litecontrol is a resource for designers, architects, and engineers to ensure their vision becomes a reality. The company provides innovative, sustainable lighting solutions to create functional, visually comfortable, inspiring spaces in schools, hospitals, corporations, stores and other prominent buildings across the United States and worldwide.
Based in Hanson, Mass., Litecontrol designs, fabricates, paints, and assembles products at two fully integrated facilities that total over 450,000 square feet. A 100 percent employee-owned company, Litecontrol offers a broad range of products and unparalleled customer support services before, during, and after installation. For more information on Litecontrol, visit http://www.litecontrol.com, call 781-294-0100 or write info @ litecontrol.com.
Attn publishers: Please send all sales leads to
Brian Golden, Vice President, Sales & Marketing
100 Hawks Ave.
Hanson, Mass. 02341
Phone: 781-294-0100 Fax: 781-294-5151
brian.golden @ litecontrol.com
###