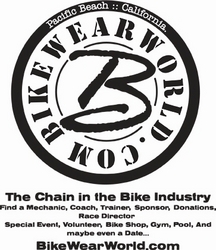 My goal is to inspire our community to make video commercial, which is the wave of the future in technology
San Diego, CA (Vocus) May 21, 2008
The CEO, Sami Tauber, has been able to conjure up crazy marketing ploys, advertising miracles and capture some amazing video footage. Tauber says that "http://www.BikeWearWorld.com is the chain in the industry for the BMX, Motocross, Mountain, Road, Spin, Track and Triathlon industries." Tauber originally had the desire to not only sell a catalog online but give back to the community as well. BikeWear World emphasizes health, nutrition, GO Green, and empower businesses with a new riding vehicle - the BikeWear World video zone.
The BikeWear World video zone offers the cycling community a place to advertise a video commercial. With more than 27 countries visiting the site, a business or person is capable of uploading their own video commercial, cool ride, race, or wipeout.
Within the video zone there is a special community that is referred to as Meet My Friends. This community is comprised of mechanics, race directors, athletes, coaches/ trainers/ nutritionists, bike shops, manufacturers, gyms, pools, special events, magazines, personals, and donations/ causes.
BikeWear World offers users the most developed and most advanced site possible. Members are able to receive discounts on bike wear; as well as, upload a video, and discover new cutting edge press release videos from manufacturers, nutritionists, coaches, or race directors. "There are no biking boundaries," says Tauber.
"My goal is to inspire our community to make video commercial, which is the wave of the future in technology," says Tauber. Tauber had hired over 400 videographers personally across the nation to walk into bike shops and get the owners to make 2 minute commercials to feature on the site. "The response has been phenomenal. It has been so much fun," says Tauber. "We have received videos from random cities nationwide." BikeWear World is obviously trying to position globally and get the 27 countries that already sign in to the site to visit the bike shops that are featured when traveling to those city destinations.
Around the World and twice on Sundays. Outfitting one rider at a time, and from their community to yours.
Keep Dreaming, Keep Pedaling and Ride Hard!
http://www.BikeWearWorld.com
###