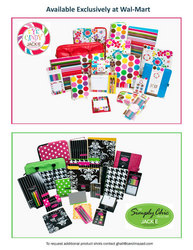 These products were designed to fill a void
Charlotte, NC (PRWEB) May 27, 2008
Carolina Pad and Paper (CPP), a leading supplier of school and office products, launched two new fashion collections that feature timeless elegance, striking design, and contemporary style. A perfect marriage of fashion and function, Eye Candy and Simply Chic personal office products, designed by CPP Signature Designer Jacqueline Savage McFee, are available now at Wal-Mart stores across the U.S.
With their eye-catching style, the Simply Chic and Eye Candy Collections are a must have for consumers who want to glam up bland home and work offices without busting their budgets.
The Simply Chic Collection offers modern scrolls, classic houndstooth, and pinstripes in striking black and white for those looking for sleek sophistication. The designs are paired with white polka dots on bold, bright backgrounds of pink, green, or yellow that add a fabulous pop of color.
Consumers who crave vibrant color will love the Eye Candy Collection! This collection consists of fresh florals, large polka dots, and luscious stripes set against a bright white background.
Whether it's for home or work, an office with these products will be the envy of friends and colleagues alike. The wide range of products gives consumers the flexibility to mix and match patterns and colors to create a look that's perfect for them. The product line includes desk accessories, calendars and planners, stationery, pens, notebooks, organizational tools, laptop totes, zippered clutches, and mouse pads).
"These products were designed to fill a void," said Kathryn Thompson, vice president of marketing, CPP. "From a consumer perspective, shopping for office products usually means sacrificing style for functionality or vice versa. Eye Candy and Simply Chic offer both."
To see the complete line of Eye Candy and Simply Chic products, visit the Carolina Pad and Paper Web site at http://www.carolinapad.com. To learn more about Jacqueline Savage McFee, visit http://www.jackiemcfee.com.
Carolina Pad and Paper (CPP) is a leading supplier of fashion school and office products. Headquartered in Charlotte, North Carolina, with offices in Hong Kong and Shanghai, Carolina Pad and Paper is one of the fastest growing stationery companies in the world. Its school, office, and arts and crafts products can be found at mass merchant, office supply, grocery, and drug stores. CPP's portfolio of brands include JACK!E™ by signature designer Jacqueline Savage McFee, Notebound®, u:create™, and Ghostline®. Learn more about Carolina Pad and Paper at http://www.carolinapad.com.
###