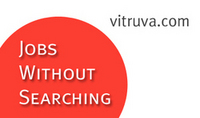 Job matching is the fastest-growing trend in online recruiting, yet tools and privacy protection offered to job candidates are stuck in the job board age
Waltham, MA (PRWEB) May 20, 2008
Career site Vitruva, Inc. today released a next-generation dashboard for high-accuracy job matching. For the first time, job candidates have access to the same power tools that have thus far been offered only to employers.
The current job matching Web sites that use the same subscription business model as traditional job boards have the same bias towards employers that make job boards unpopular among the majority of job candidates. They sell resumes in bulk, limit job candidates to only one profile, restrict the number of skills that describe candidates' work experience, and often compromise candidate's privacy.
"Job matching is the fastest-growing trend in online recruiting, yet tools and privacy protection offered to job candidates are stuck in the job board age," said Jindrich Liska. "Vitruva's dashboard gives job candidates the first comprehensive solution to efficiently advance their professional careers."
Dashboard features include:
Privacy Protection – Vitruva privacy protection for candidates exceeds what other job matching sites offer. Job candidates can not only grant permission to be contacted by an employer or recruiter but also can remove the permission anytime. All permissions are conveniently handled from a centralized candidate permission table.
Instant Score Updates – Vitruva users can change their preferences "on the fly" and instantly see an updated score and rank for all their job matches without tedious profile editing. This is a refreshing improvement over most job matching Web sites, which require job candidates to undergo time-consuming profile editing for even minor changes in their job search parameters.
Multiple Profiles – Vitruva users can have multiple profiles at the same time, similar to having different résumés for different jobs. In each profile, candidates can emphasize different strengths, thereby targeting different types of opportunities.
Unlimited Skills – Vitruva's advanced artificial intelligence engine allows candidates to fully represent their experience without restrictions on the number of selected skills. In contrast, less sophisticated job matching systems force candidates to select a limited number of skills. Those systems inevitably misrepresent those candidates with more experience and richer skill sets, resulting in poor quality of matches.
Instant Feedback – Job candidates are instantly notified about a job match when its score reaches a preset threshold or when an employer shows interest and requests contact information to initiate the interview process. This real-time feedback ensures that job seekers will never miss the next great job opportunity.
A live demo of the Vitruva dashboard is available online at vitruva.com.
About Vitruva
Vitruva is a second-generation career Web site that offers intelligent, real-time job matching services to employers, recruiters and job candidates. Job candidates are notified of job opportunities that precisely fit their unique skills, work experience and work style preferences without having to spend time searching for them. For employers and recruiters, Vitruva offers a powerful talent-sourcing system that instantly and efficiently identifies highly qualified candidates. The company was founded in 2006, with headquarters in Waltham, Massachusetts. For more information, please visit vitruva.com.
Media contact:
Jindrich Liska
jindrich(at)vitruva.com
phone: 508-735-5777
This press release was distributed through eMediawire by Human Resources Marketer (HR Marketer: http://www.HRmarketer.com) on behalf of the company
listed above.
###