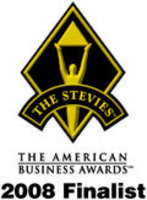 Building on last year's Finalist status for Most Innovative Company, we have had an exceptional year which includes a 300% growth in bookings and significant recognition by human resource executives, analysts and educators
Berwyn, PA (PRWEB) May 20, 2008
SkillSurvey, Inc., the innovator of Web-based reference checking, has been named a Finalist in the Best New Product or Service category in The 2008 American Business Awards(sm).
Hailed as "the business world's own Oscars" (New York Post, April 27, 2005), The American Business Awards are the only national, all-encompassing awards program honoring great performances in business.
The nominated product, SkillSurvey Pre-Hire 360®, automates job candidate reference checking and significantly increases both the quality and quantity of information received. Organizations that have adopted this technology typically generate reports in less than two days and with four or more reference providers responding. In addition to increasing hiring accuracy, the efficiency of the process results in time-savings that can be strategically reallocated.
Over a quarter of SkillSurvey's clients are ranked among the Fortune 500. Joining the commercial clients are non-profits, elementary schools and healthcare organizations that are replacing their phone-based approach to reference checking with SkillSurvey's patent-pending online method.
"Building on last year's Finalist status for Most Innovative Company, we have had an exceptional year which includes a 300% growth in bookings and significant recognition by human resource executives, analysts and educators," said Ray Bixler, president and chief executive officer of SkillSurvey. "Being named as a Stevie Award Finalist highlights our growth and the value of our technology, and also inspires us to continue innovating ways to enable recruiters and hiring managers to improve their quality of hire quality of hire. We thank the American Business Awards and the judges for this recognition."
"ABA entries grew more than 30 percent this year, so being named a Finalist is more of an accomplishment than ever before," said Michael Gallagher, founder and president of The Stevie Awards. "It means that independent business executives have agreed that the nominee is worthy of national recognition. We congratulate all of the Finalists on their achievement and wish them well in the competition."
In addition to being named a Finalist in the Best New Product or Service category, SkillSurvey marketing vice president, Erika von Hoyer has been named a Finalist as Best Marketing Executive.
Stevie Award winners will be announced during the annual gala on Thursday, June 12 at the Marriott Marquis Hotel in New York City. More than 600 executives from across the U.S.A. are expected to attend. The ceremonies will be broadcast on radio nationwide by the Business TalkRadio Network and hosted by Liz Claman of FOX Business Network.
About SkillSurvey
SkillSurvey is the pioneer and leading provider of on-demand reference checking solutions that increase quality of hire and improve recruiting efficiency. Using SkillSurvey Pre-Hire 360™, organizations improve the quality and quantity of information they collect regarding a candidate's past work performance, enabling them to qualify the pool of applicants in a shorter amount of time. This breakthrough, patent-pending approach to reference assessments was recognized by Human Resource Executive® as a Top HR Product of 2007. Information is available at http://www.skillsurvey.com.
Media Contact:
Erika von Hoyer
VP, Marketing
SkillSurvey, Inc
610-727-4161
evonhoyer(@)skillsurvey.com
This press release was distributed through eMediawire by Human Resources Marketer (HR Marketer: http://www.HRmarketer.com) on behalf of the company
listed above.
###