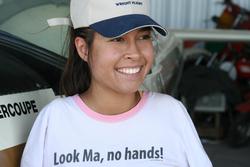 There's no way I'd let you solo with all those people around! You wouldn't be able to concentrate!
Tucson, AZ (PRWEB) May 20, 2008
As revealed on Barbara McNichols' website, on May 11, 2008, this Tucson resident and University of Arizona graduate gave her mom an amazing Mother's Day gift. She flew an Ercoupe sport plane solo in San Manuel, Arizona - using only her feet! Reaching this milestone is tough for anyone, but especially for this 25 year old born without arms. Her family and friends, McNichols included, watched her practice her touch-and-go's (quick landing and takeoff) the day before, but her instructor said, "There's no way I'd let you solo with all those people around! You wouldn't be able to concentrate!"
Then, in her lesson about 6 a.m. the next morning with no crowds or cameras around, she did five touch-and-go's in a row. "You're ready," said Parrish Traweek, her instructor and owner of the Ercoupe. After that came her first solo flight.
This all started in August 2005 when Col. Robin Stoddard, the Executive Director and founder of Wright Flight Inc. a non-profit organization in Tucson, Arizona approached Jessica after her speaking engagement at a Tucson Rotary Club Luncheon. As she was leaving the facility, Robin simply asked her if she ever thought about flying an airplane. Jessica responded that one of her only fears was flying. Robin, himself a decorated Air Force Fighter pilot, told her about his Godfather, an Air Force fighter pilot who suffered a crash landing but still went on to fly his own aircraft even though he was confined to a wheelchair. Robin went on to explain that he has taught people with all types of disabilities and if she could drive a car, (and from the photos she provided during the lecture it was obvious she could) then she could fly an airplane.
That upcoming Saturday Jessica attended one of the many Wright Flight "fly days". This was a time where kids who have successfully graduated from the Wright Flight program are allowed to pilot an aircraft for an hour with their designated pilot.
From that day starting with Wright Flight's chief pilot Greg Rush, an airline pilot for UPS, and the guidance and encouragement of Robin Stoddard and the Wright Flight organization, Jessica Cox was guided through the "ups and downs" of aviation.
Now, two years later, Jessica Cox like that of the Wright Brothers, has made history. Barbara has posted several photos located on her website at Non Fiction Editor.
Please contact:
Sarah Stevenson
SarahStevenson08 @ yahoo.com
408-577-7741
###