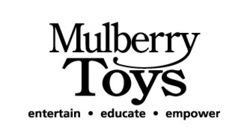 Madison, GA (PRWEB) May 20, 2008
What do two teachers with over 30 years of teaching experience between them do when they throw away the chalk and put away their red pens for the last time? They pack up all they've learned along the way and open a toy store that's unlike any other, MulberryToys.com.
It may sound as if Michelle Robinette and Vanessa Carter, teachers and store owners, were just ready to have some fun, and they were… but that's only part of the story. As teachers, they knew how important it was for children to find time to practice what they learn in school. As parents, they knew that kids also deserved down time to just be kids and play. So they started thinking… wouldn't it be great if there were a way to combine the two and offer toys that were both educational and entertaining?
MulberryToys.com isn't just another online toy store. It's a toy store that's full of non-commercial playthings that children will love and parents will feel comfortable giving. Each of the over 2,000 award-winning products featured on the site includes information on the toy's educational play value as well as a personalized description from the teachers. It's this information that sets MulberryToys.com apart from all the other online toy retailers. Categories within the site include Learning Toys, Pretend Play, Mulberry Baby, Games, Classics, Books and Music, Art, Building Toys, Vehicles, Dolls, and Outdoor Play.
From its animated features and sound effects to the educational information provided with each product, MulberryToys.com is filled with surprises. Among the more distinctive elements is a "Just for Fun" link offering monthly amusements for parents and children. The site also includes journaling pages and family activity ideas. The "Giving Back" area highlights Mulberry Toys' pledge to corporate tithing and each checkout gives shoppers the opportunity to make charitable donations to The Make-a-Wish Foundation.
If you're in the Atlanta area, it's worth the side trip to experience what is quickly becoming the most important (and fun) place to visit in this quaint tourist town...just look for the bubbles. Yep, there's a constant stream of bubbles floating outside the door to the store. Step inside and you'll understand why many have described Mulberry Toys as an experience for the senses. You'll see the colors, shapes, and fun patterns that practically leap off the walls. You'll hear and maybe even sing along to the music that's being played. In this store, it's okay to touch. Play with the train, bounce a ball, add to a painting, or finish the puzzle. Is that cookies you smell or maybe cotton candy? Believe it or not, it's a signature scent that's piped in just for Mulberry Toys customers. The store doesn't sell any food, so to experience taste; you'll need to pop in to Scoops, a favorite ice cream parlor that's conveniently right next door (try the banana pudding)!
Throughout the summer, MulberryToys.com will be offering numerous online specials. During the months of May and June, simply type the word Mulberry in the coupon code box at checkout and automatically receive $10 off any order over $50
About Madison, Georgia
The city of Madison, just an hour east of Atlanta and an hour west of Augusta, is listed on the National Register of Historic Places and has the largest designated historic district in the state of Georgia. During the Civil War, it's said that Sherman's Army spared Madison destruction during because it was the home of his college friend and pro-Union Senator Joshua Hill. The town and the surrounding homes still appear today as they did at that time with beautiful antebellum homes and tree-lined streets.
###