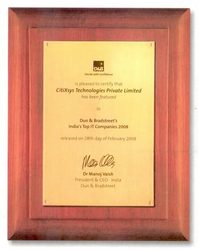 In the past, CitiXsys has won several accolades and awards; however, being recognized by Dun & Bradstreet on a national level across India is definitely a great milestone and accomplishment for CitiXsys
New York, NY (PRWEB) May 21, 2008
CitiXsys is pleased to announce it has been featured as one of "India's Top IT Companies 2008" by Dun & Bradstreet (D&B) in its premier publication. A nationwide survey of Indian IT companies was carried out by D&B evaluating over 11,000 companies out of which only 210 were selected. Company listings profiled in this publication have been selected on various parameters, viz., location, company size, total income, services offered and operating verticals.
"In the past, CitiXsys has won several accolades and awards; however, being recognized by Dun & Bradstreet on a national level across India is definitely a great milestone and accomplishment for CitiXsys," said Kamal Karmakar, CEO of CitiXsys. "This recognition is an acknowledgment of CitiXsys as a leading provider of SAP Business One Solutions in the retail and distribution industry and reconfirms our strong presence to compete successfully at all levels and emerge as a market leader," he added.
Dun & Bradstreet is recognized around the world as the leader in providing global business information and has been enabling companies to Decide with Confidence® for 165 years. The company manages a commercial database of over 100 million companies and is supported by D&B's proprietary DUNSRight® Quality Process, which transforms the enormous amount of data collected daily into decision-ready insight. Customers around the world have come to rely on Dun & Bradstreet as a provider of the world's largest and high quality commercial business information database.
To view the names of companies selected by Dun & Bradstreet visit: http://www.dnb.co.in/TopIT_08/result.asp
About CitiXsys
CitiXsys is a leading provider of products for SAP® Business One in the Retail, Warehousing and Distribution Industry. The largest SAP® Business One Solutions Partner globally, CitiXsys also provides implementation, integration and customization services to SAP partners and customers worldwide. CitiXsys clients have realized the promise of the CitiXsys Advantage: innovation, on-time service delivery, rapid return on investment and high quality products and solutions.
CitiXsys helps clients across North America, Europe, Asia Pacific regions and Africa realize high business impact and value from improved retail, warehouse and distribution solutions in the Business One landscape. Acknowledged as a leading Business One Solution Provider by industry analysts and experts, CitiXsys clients include globally recognized companies such as American Express, SAP, Swarovski Optik, Greiche & Scaff, Britannia, Wellborn Cabinet, Inc., Biotique, Colio Wines, Margaret Howell and Alcan. CitiXsys has been acknowledged as the SME Global Innovation Partner by SAP, and is the recipient of the SAP® Pinnacle Award, a global recognition given by SAP to CitiXsys in 2008.
The company has its corporate headquarters in New York City and offices in the U.S, Canada, U.K, Australia and India. For more information please visit: http://www.citixsys.com
All product and service names mentioned are the trademarks of their respective companies. SAP® and other SAP® products and services mentioned herein as well as their respective logos are trademarks or registered trademarks of SAP® AG in Germany and in several other countries globally. Data contained in this document serve informational purposes only.
###