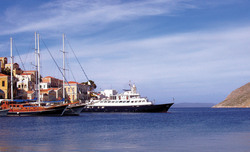 Wilmington, NC (PRWEB) May 22, 2008
If a golf cruise to the Mediterranean onboard a private yacht to play spectacular courses and visit sun-splashed destinations from Greece to Morocco is on your personal "bucket list," PerryGolf invites you to check off one more box.
PerryGolf, a leading provider of international golf and luxury lifestyle travel experiences, has announced 2008 - 2009 sailing schedules onboard the luxurious private yacht Callisto. This year the 34-passenger yacht sails the Greek Islands and Turkey, Aug. 27-Sept. 6 and Sept. 5-15, before heading to Spain and Morocco Dec. 8-17. In 2009 tours are schedule March 28-April 7 to Spain and Morocco; June 11-22 to France, Italy, Tunisia and Malta; Aug. 15-24 to Italy and Croatia; and Sept. 9-18 to Turkey and the Greek Islands.
The 165-foot Callisto brings guests within a chip shot of stunning shoreline scenery. From the deck of Callisto, the region's distinctive cultural experiences, historically important landmarks and number of highly regarded coastal courses are only steps away.
Callisto's size allows visits to unspoiled ports, pristine beaches and intimate coves not accessible to larger cruise liners. The limited guest list assures a group large enough to bring together an interesting mix of travelers yet small enough to foster a genuine spirit of camaraderie.
Callisto features 17 tastefully furnished exterior cabins with large windows, double beds, satellite TV, marble baths and showers. The ship's public areas include an elegant restaurant, spacious lounge, bar and library.
The Crete Golf Club, where expansive fairways hewn through rocks and ravines are flanked by sea and mountain; Nick Faldo's new layout at the Cornelia Golf Resort in Antalya, Turkey; and two Robert Trent Jones Sr. designs in Spain's seaside towns of Malaga and Gibraltar are among the courses offering equal parts beauty and challenge.
The Callisto tours are part of the expanded Golf Cruising by PerryGolf schedule recently announced that includes 17 cruises in 2008 - 2009 to golf destinations as diverse as Scotland, South Africa, France and the Mediterranean.
About PerryGolf
Established in 1984, PerryGolf is the industry's leading provider of distinctive international golf tours and luxury lifestyle travel. Customized and escorted land programs are offered to 12 of the world's most memorable destinations: Scotland, Ireland, England, Wales, Portugal, Spain, France, Italy, South Africa, Australia, New Zealand and China. In addition small-ship and river barge golf cruises visit the Mediterranean, France, Scotland, South Africa, the Great Lakes and Canada. PerryGolf's exclusive online trip calculator -- Plan Your Own Tour™ -- allows travelers to generate immediate quotations for trips they create entirely online. The company is based in Wilmington, N.C., and Helensburgh, Scotland. For more information on PerryGolf, please visit http://www.perrygolf.com or call a PerryGolf travel specialist at 800-344-5257 or e-mail Information(at)PerryGolf.com.
###