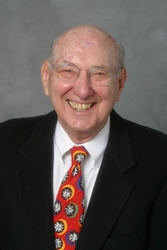 New Orleans, LA (PRWEB) May 21, 2008
Leonard Kohl is a widely recognized leader and pioneer in the development of housing, lifestyle and services for active adults and older Americans. His leadership has had a significant influence on the growth and direction of the industry for over 50 years. Mr. Kohl's commitment to listening to the consumer's wants and needs, and responding with innovative designs and solutions that exceed expectations, continue to have a lasting impact on the industry.
Mr. Kohl is currently chairman of Kohl Partners, LLC and a builder and developer of commercial and residential real estate for more than 45 years.
His career in the homebuilding industry began in the 1940's, when he worked in construction on Long Island. In the late 1950's, Mr. Kohl built his first single family house in Rockland County, NY. The home sold for $11,990.
Mr. Kohl soon noticed the in-migration of seniors to Rockland County and he responded by building his first 55 development, a 16 unit garden apartment community in Suffern NY. Leonard Kohl continued to build single family homes and garden apartments, many of which would be called 'age targeted' in today's market. Even then, he was an industry leader, serving as Vice-President of the Northern New Jersey HBA, and President of Rockland County HBA (Home Builders Association).
In the early 1960's, as a prominent NAHB director, and senior housing pioneer, Mr. Kohl was called upon to advise Henry Paparazzo as he was building the nationally recognized active adult community, Heritage Village in Southbury, Connecticut.
The first active adult lifestyle community ever in New Jersey:
In the late 1970's and early 1980's, Leonard Kohl completed Rossmoor, the first active adult lifestyle community in the Garden State. Located in Monroe Township, New Jersey, Rossmoor encompasses more than 2,000 homes. Mr. Kohl went on to develop the celebrated communities of Clearbrook and The Ponds, both in Monroe Township, as well as Squadron Gardens in New City, N.Y, which earned an NAHB development award.
By the 1990's, Leonard Kohl was a nationally recognized expert on active adult lifestyle housing, and his advice was sought out by leaders in the banking and housing industries. It was at this time that he formed a strong bond with his current partners, Alan and Jonathan Litt and Drew Barile, and began developing and managing congregate and assisted living communities.
A first in Connecticut:
As the 21st century began, Leonard Kohl formed a new entity, Kohl Partners, and chose Newtown for his first Connecticut venture. Connecticut is the eighth oldest state in the country, and there are approximately 40,000 households aged 55 to 74 within a 15 mile radius of Newtown.
On May 6th, Kohl Partners held a groundbreaking for The Woods at Newtown, a trend setting active adult lifestyle community, which will include 132 single level clubhouse condominiums, 46 townhomes and a unique cyber doorman. The Woods 8,500 square foot shingle style clubhouse, designed by Architectura, was recognized with its own 2008 Best of 50 Housing Design Award. Once again, Leonard Kohl's leadership has set a new pace in outperforming the market with the first phase of The Woods already 75 percent sold.
After 50 years in the housing industry, Mr. Kohl, now 82, maintains a full work schedule. He meets with his partners and staff each day, and continues to interact directly with consumers and homebuyers to listen to their desires and then translate them into cutting edge communities that meet and exceed their expectations.
Leonard Kohl received a degree in engineering from Cornell University, and a Bachelor of Science degree in biochemistry from the City College of New York. He holds the honor of lifetime director to the board of the National Association of Home Builders (NAHB). Mr. Kohl, and his wife of 55 years, Laurel, live in Fairlawn, NJ. For more information visit http://www.KohlPartners.com.
CONTACT: Alan Litt, Kohl Partners (201) 287-4404 or Barbara Kleger (215) 893-3635.
# # #