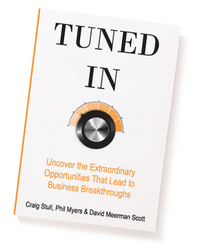 We see all kinds of organizations make the same common mistakes again and again.
Scottsdale, AZ (PRWEB) May 27, 2008
The most common mistake that causes products and services to fail is the logical, but incorrect assumption, because you're an expert in a market or industry, you know more than your buyers about how your product can solve their problems, say the authors of Tuned In, (http://www.tunedinbook.com) their new book about uncovering the extraordinary opportunities that lead to business breakthroughs.
"Based on our decades of experience working with thousands of companies, we've learned that creating a successful product or service requires a new way of thinking," says Craig Stull, CEO of Pragmatic Marketing and co-author of Tuned In. "We see all kinds of organizations make the same common mistakes again and again."
Based on the authors' research, some of the most common mistakes that cause products and services to fail include:
Guessing--Believing company insiders know more than buyers do about what they want to buy
Assuming--Basing products and services on what current customers request rather than on a deeper understanding of unsolved problems that potential customers will pay money to fix
Telling--Try to create a need in the market by relying on expensive advertising or an army of salespeople
"The good news is companies can overcome these common mistakes if they know how to identify them," Stull says. "We've developed the Tuned In Process to help companies create success on a regular basis. We see these same principles at work in a wide range of successful product experiences, such as business-to-business technology products, fast food chains, and professional services firms."
Tuned In: Uncover the Extraordinary Opportunities That Lead to Business Breakthroughs by Craig Stull, Phil Myers, and David Meerman Scott is published by Wiley on June 27, 2008 and available wherever business books are sold. ISBN: 978-0470260364
Anyone can use Tuned In to replicate the model for success. It works for well-known companies like Ford, Apple, and GE and those not-yet-famous like GoPro and Zipcar. It works for realtors, doctors, ministers and even rock stars. Tuned In will teach you how to transform your everyday activities into those which create the kind of culture that builds market leaders.
Authors Craig Stull and Phil Myers lead the team at Pragmatic Marketing, the company behind Tuned In. David Meerman Scott is an online thought-leadership strategist who teaches the New Rules of Marketing seminar for Pragmatic Marketing.
About Pragmatic Marketing: Twice recognized as one of America's fastest growing private companies by Inc. Magazine, Pragmatic Marketing provides training seminars, onsite workshops, consulting services, and an online community for technology product managers, marketers and executives. Over 45,000 people at more than 3,000 companies world-wide have been trained using the Pragmatic Marketing Framework, a practical, market-driven approach to creating and launching technology products. See http://www.pragmaticmarketing.com.
Contacts:
Graham Joyce
http://www.tunedinbook.com/
1-480-515-1411
# # #