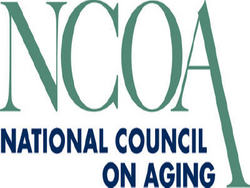 The goal now is to keep older adults healthy, keep them thriving
Washington, DC (PRWEB) May 21, 2008
If you've heard that social activities prolong life, a new YouTube video confirms it. Created by the National Council on Aging (NCOA) and the American Society of Aging (ASA), the video features people in their 60s, 70s and 80s talking about their activities at senior centers, with clips of them dancing, exercising and just relaxing with a cup of coffee.
Called The Many Faces of Aging in America, the NCOA/ASA video introduces viewers to older people at Lowcountry Senior Center in Charleston, SC and Aging in America Community Services in New York City. Among the people interviewed, you'll meet Josephine Sciucca of Bronx, NY, who says "I've learned a few things. I mean I never thought I'd be a dancer and I really enjoy it – and I think I'm a pretty good dancer."
In addition to people who frequent the senior centers, the video features interviews with professionals who work with them. "The goal now is to keep older adults healthy, keep them thriving," says Barbara Edlund, an adult nurse practitioner and a professor at the Medical University of South Carolina. "We need to educate – beginning with health professionals – about all of the dimensions of aging so we begin to change our perspective."
The upbeat, 80-year old Nancy Bowlin of the Bronx sums up the feeling of many in the film. "I love the exercise -- yoga, tai chi – everything here I utilize. I really love this place and if it went away it's the death of all of us."
The video was produced by CVS Caremark for the March 2008 Aging in America National Conference of the NCOA and ASA. Click or paste this link in your browser and sit back for an enlightening view of aging: http://www.youtube.com/user/ncoabcu
Contact:
Georgiana Bloom
202-609-6935
georgiana.bloom(at)ncoa.org
This press release was distributed through eMediawire by Human Resources Marketer (HR Marketer: http://www.HRmarketer.com) on behalf of the company
listed above.
###