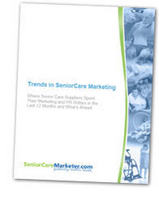 What continues to catch our attention
Capitola, Calif. (PRWEB) May 21, 2008
The much-hyped "aging of America" has arrived, but many suppliers of senior care products and services are unprepared for the intense marketing competition about to take place. A new research report examines the latest trends and best practices for marketing to the senior care industry in 2008.
The report is titled, Trends in Senior Care Marketing: Where Suppliers Spent Marketing and PR Dollars in 2007, and What's Ahead in 2008. It represents a broad spectrum of senior care companies, including home care, senior housing, medical, physical therapy and pharmaceutical, and other specialties. Data is based on responses from a diverse group of senior care suppliers collected during Q4 of 2007.
Key topics in the report include:

What marketing and PR activities were most important to senior care suppliers the past year, and their budgeting plans for the next 12 months;
How senior care suppliers measure the success of their marketing and PR;
Who and what suppliers rely on to stay knowledgeable about the marketplace;
How optimistic suppliers are about the overall health of the senior care marketplace.
The report found that blogging and pay-per-click advertising have yet to catch on with many senior care vendors, many of which are operating with limited marketing budgets. Most respondents prefer traditional marketing methods such as print advertising, trade show exhibits, print press releases and direct marketing, although search engine optimization and direct e-mail marketing are making strong inroads.
The report comes at a critical time for suppliers: the senior care market is booming and the effects of this demographic shift will be felt for decades. Among 78 million U.S. baby boomers, roughly one-third will be 62 years old or older by 2013, says the American Association of Retired Persons (AARP). People 65 years and older represent the fastest-growing age group in the United States; by 2030, one of every five Americans will be over the age of 65.
To download a free copy of the report, visit: http://www.seniorcaremarketer.com/downloads.htm
According to Mark Willaman, president of Fisher Vista, LLC, the owners of SeniorCareMarketer, it's a challenge to reach the buyers of senior care products and services, considering the vast array of purchasing influencers: family caregivers, social service agencies, hospitals, geriatric care managers, pharmacists, physical therapists, home health care, residential facilities and more. Moreover, senior care vendors generally lag behind other industries in terms of Internet marketing knowledge.
"The Internet is dramatically changing the marketing landscape—yet we don't expect to see major differences in senior care marketing and PR activities over the next year," said Willaman. "While the marketing sophistication of many healthcare companies is as impressive as any industry, many vendors in the senior care marketplace have limited or no marketing budgets."
"What continues to catch our attention," he added, "is a steady breakdown of the barriers between traditional disciplines and the convergence of Internet and Web 2.0 marketing practices."
About Fisher Vista, LLC / SeniorCareMarketer.com:
Fisher Vista, LLC (http://www.fishervista.com) is a marketing and information services firm focusing on the human capital and senior care industries. The company's flagship product, HRmarketer.com, is the No. 1 online marketing and PR service in the human resources industry. Since 2001, over 500 human resource suppliers have used HRmarketer.com and the HRmarketer Services Group to generate publicity, website traffic, sales leads and improved SEO. SeniorCareMarketer.com is scheduled for launch in the Fall of 2008 and will achieve similar results for companies selling products and services relating to the aging of America.
This press release was distributed through eMediawire by Human Resources Marketer (HR Marketer: http://www.HRmarketer.com) on behalf of the company listed above.
###