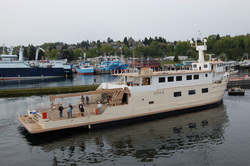 We're really looking forward to having EPYC's amazing support platform available to members in Catalina this September and in Cabo for the Bisbee in October. It's going to completely change the way we prepare for these events
San Diego, CA (PRWEB) May 22, 2008
The Eastern Pacific Yacht Club (EPYC) today announced the completion of the "Pacific Provider," a 160 foot luxury mothership. The $5.5 million dollar refit conversion began in Seattle last fall. The ship will leave for San Diego on May 24, 2008 for a week long trip where it will undergo a series of sea trials and systems tests.
The Club will hold its official launch on Santa Catalina Island September 1, 2008. EPYC and the Pacific Provider will serve as both host and tournament control for several of the local marlin tournaments based out of Catalina Island during the month of September.
The "Eastern Pacific Yacht Club" is an exclusive membership club offering boaters a luxury social platform and provisioning at sea in the hottest fishing and cruising locations off the Western U.S. and Mexican coastlines. The ship features six luxury suites, two 35' game boats, 84,000 gallons of fuel, dining room and lounge, full tackle center, water toys, four 500 gallon bait tanks, fitness center, jacuzzi and a variety of other amenities.
"Our aim is to provide a new dimension to boating," said Tom Ellsworth," EPYC founder and owner of Ellsworth Marine, one of the world's largest Riviera dealers. "The club and its amenities will provide unparalleled access to the waters off the Western U.S., Mexico and Central America. By using the club's on-board game boats, members can fish remote locations throughout the world without putting long range hours on their own vessel. EPYC brings the experience of elite Mothership ownership to the everyday boat owner."
One of EPYC's strongest supporters is "Team Bad Company" owner Anthony Hsieh, who earlier this year acquired the Crow's Nest Yacht Sales on the West Coast and just completed his debut of the new Team Bad Company game boat line up which includes a 60 BCE Viking, a 45 Rybovitch and a 38 Contender. He shares the belief that EPYC is breaking new ground, offering a new experience for boaters who are hungry for far away adventures.
"We're really looking forward to having EPYC's amazing support platform available to members in Catalina this September and in Cabo for the Bisbee in October. It's going to completely change the way we prepare for these events," said Hsieh.
The Pacific Provider has eleven crew covering everything from engineering support to 5 Star gourmet food prepared by Chef Drew Deckman.
"They'll even handle all our laundry and provide us with fresh bait daily," said Hsieh. "Not having to worry about food and provisioning will go a long way to ensure that our team has plenty of rest come game day."
EPYC offers memberships to boat owners as well as those who would rather forego boat ownership. Membership includes use of the ship's game boats, 28 advanced reservation nights aboard the ship in any of the luxury suites, and unlimited access to the ship's overflow lodging.
While the first ship will cruise between Southern California and Panama, EPYC plans to expand its fleet to three ships within the next five years, providing access as far north as Alaska and as far south as South America. All existing members will have the same access to each additional ship.
For more information or to secure a membership package, call 1-866-841-0931.
# # #