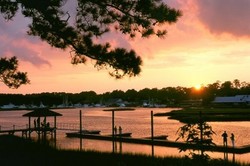 Housing led us into this credit crisis and this recession. It is likely to lead us out. And that process is underway, right now.
Wilmington, NC (PRWEB) May 20, 2008
If you've been contemplating that second home, condo, or permanent vacation, experts say now is the time to buy real estate. In April 2008, American Express Publishing and the Harrison Group's Annual Survey of Affluence and Wealth in America revealed that 77% of the wealthiest people in the country believe real estate is a "real opportunity" now. Forty percent said they plan to buy this year.
In a May 6 online piece for The Wall Street Journal, Cyril Moulle-Berteaux, managing partner of N.Y. hedge fund Traxis Partners LP, wrote, "Yes, the housing market is bottoming right now. The dire headlines coming fast and furious in the financial and popular press suggest that the housing crisis is intensifying. Yet it is very likely that April 2008 will mark the bottom of the U.S. housing market." He went on to state that, compared to other housing market slowdowns, interest rates are much lower and incomes have continued to rise.
Moulle-Berteaux conjectured that the supply of available home inventory should drop below five months in 2009; at that point, values will begin climbing. He concluded, "Housing led us into this credit crisis and this recession. It is likely to lead us out. And that process is underway, right now."
The Southeast: A Hotbed of Opportunity
Many communities throughout the Southeast are offering discounted purchase prices, outstanding incentives and more. Ideal Living magazine (http://www.ideal-living.com) features communities that suit every lifestyle--with amenities that range from equestrian centers to championship golf courses to private beaches.
According to John Comstock, Lindal Cedar Homes' southeastern region area manager, "People who have delayed building their vacation or retirement home in the South are doing it now. We have found that even some who were waiting for their primary homes to sell in other areas have recently given the green light to designing their Lindal. They've tired of waiting."
CANA Corporation's president, Randy Wallace, a veteran of 31 years of development in Myrtle Beach, SC, says, "Going back to the time I started in real estate in early 1977, people have wanted to buy a $100,000 lot for $90,000, or a $150,000 townhome for $135,000, or a $250,000 home for $220,000. They are always a couple of years behind the process here at the beach... They can get those deals if they act now, but the window of opportunity will be closing soon."
Wallace says that some of CANA's communities are still offering big discounts, but he predicts that by year's end, discounts on single-family housing will disappear. Discounts on homesites and condos may continue into 2009, but inventory is already being reduced in those areas as well.
Think sales are down?
April was one of the best-selling months in recent years for St. James Plantation in southeastern North Carolina. Sales totaled more than $4.9 million. With the development of St. James' newest eco-friendly neighborhood, Woodlands Park, and the summer's grand opening of Harborside Marketplace, St. James Marina's new collection of shops, fresh market grocery and waterside grille, sales are expected to continue on an upswing.
In 2007, Reynolds Plantation had their 3rd best year for real estate sales. Located on Georgia's Lake Oconee, just an hour's drive from Atlanta, Reynolds Plantation boasts 99 holes of golf, 80 miles of shoreline and a Ritz-Carlton on-site.
Don't want to build right away?
At Hammond's Ferry on the Savannah River in North Augusta, SC, now is a great time to buy. Even though you may not be ready to build just yet, you can get in on homesites that offer an 18-month to five-year period before you have to begin construction.
Homestead Preserve in famous Hot Springs, VA recently discovered that over 40% of their owners weren't planning on building for five years. Co-manager Don Killoren helped to develop their 'charter home program,' which gives buyers "...what they were asking for...without the immediate expense and challenges of building." This program offers a more immediately affordable alternative to home construction.
Want to experience a community during your summer travels?
Not looking to buy right away, but ready to start your property search? Many communities are offering exceptionally discounted packages just to pay them a visit. At Vista at Bill's Mountain in western North Carolina, for $250 per couple (travel not included) you can spend two nights in a luxury town home or cottage, play a free round of golf, join homeowners at a welcome reception and more.
Another hot spot for great deals is Tennessee, where Long Branch Lakes (less than two hours from both Knoxville and Nashville) is offering one to ten-acre homesites starting at $50,000, as well as a developer financing program for qualified buyers. Tip: You can check out this community, which has miles of horseback riding trails, fully stocked lakes and more, for just $99.00 (travel not included).
Located on Lake Greenwood in South Carolina's Piedmont, the Grand Harbor Group's Newport at Stoney Point will be offering prospective buyers the opportunity to "touch, taste and feel" the experience. "The 'experience' is what sells this community," says Chris Johns, Grand Harbor's marketing director. "The idea is for prospective buyers to honestly be allowed to evaluate Newport as much as possible from the relevance of a lifestyle experience rather than from a sales pitch. We want them to understand this community from the point of view of living there."
Many communities are hosting grand galas and sales events where buyers can take full advantage of not just a purchase incentive, but also a great weekend at their future residence. Waterford of the Carolinas recently invited homeowners and guests to their second annual homeowners' weekend. Over 500 people came out to preview the property, listen to live music, interact with current homeowners and more.
Palmetto Creek of the Carolinas, a new community in Wilmington, NC, also held a recent gala. Even though there are just 20 current homeowners living in the community, those 20 came out to welcome the 12 new homeowners who've already purchased this year.
Want to go Green?
In a recent survey, over 60% of Ideal Living magazine's readers reported that they were interested in learning more about green products. Craddock Oaks, located on Virginia's Smith Mountain Lake, is building energy-efficient homes, encouraging a green lifestyle, and preserving the natural beauty of the region with what they term "affordable green" living.
Check out Devaun Park in Calabash, NC and their new collection of Meeting Park condominium residences and townhomes, located within minutes of over 100 golf courses. As part of their "smart growth" program, which recently won them the Lower Cape Fear Stewardship Award and is endorsed by the NC Governor's Task Force, Devaun Park is setting the bar high for eco-friendly living.
Not looking for a homesite or custom home, but want the maintenance-free lifestyle condo and townhome living can afford?
Virginia continues to be a draw for many buyers. Ford's Colony at Williamsburg "...is a community where there are families with children and residents of all ages," say Ted and Fe Ramandaban of Roanoke, VA. Not only have they purchased a homesite, they also recently purchased a condo in Eaglescliff thanks to the incredible deals.
Been thinking about a multi-million-dollar residence?
JMC Communities is celebrating their 30th year in the homebuilding industry. At their newest community, Seacrest, located in New Smyrna Beach, FL, purchasers are reveling in up to $200,000 in value and savings.
Want to get in before everyone else?
Western North Carolina, which continues to be one of the fastest-growing real estate markets in the U.S., is home to White Oak Golf and Equestrian Community. They are currently offering pre-development pricing and the Arnold Palmer-designed golf course is set to be completed in late 2008.
Lake Lure, home to Blue Heron Point, is another place to 'get in' before the crowds discover it. Not ready to sell, but want to explore your options? Look into their 'real estate exchange' program. This innovative and relatively new concept allows you to 'trade' your existing residence for a piece of their inventory.
For more information on these areas and more current real estate trends http://www.ideal-living.com
###