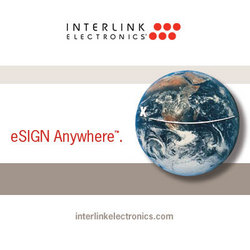 Myths and Realities: eSignatures in the Insurance Industry
Camarillo, CA (PRWEB) May 21, 2008
Interlink Electronics, Inc. (OTC: LINK.PK), the trusted provider for legally-binding esignature solutions will host an educational and interactive web panel discussion entitled: "Myths and Realities: eSignatures in the Insurance Industry" on June 4, 2008 from 8:00 a.m. to 9:00 a.m. PDT. The panelists from Interlink, Celent, and Locke Lord Bissell and Liddell LLP will share their esignature expertise and be available to answer questions. Registration is now open: https://www1.gotomeeting.com/register/545921156.
"The goal of the panel discussion is to bring attendees up to date on the current industry trends, educate them on the available technology options, and to reaffirm the legality of electronic signatures," explains Rod Vesling, Senior Vice President and Officer for eTransactions at Interlink Electronics.
Based on a December 2007 Celent report entitled "An E-Signature Update for US Insurers", the panelists will discuss the following realities of electronic signatures:

The Federal E-Sign Act established the legal framework for esignatures
eSignatures provide valuable and tangible benefits
eSignature technology does not require a complete IT overhaul
Leaders in the insurance industry are currently embracing the technology
Panelists:
Mr. Patrick J. Hatfield, Partner, Locke Lord Bissell & Liddell LLP: Mr. Hatfield is a partner in the Corporate Department in Locke Lord Bissell & Liddell's Atlanta office and co-chairs the Firm's Technology Transactions Group. Throughout his legal career, Mr. Hatfield has focused on financial services, intellectual property and technology.
Mr. Craig W. Weber, Senior Vice President, Celent: Mr. Weber is the Senior Vice President responsible for Celent's insurance practice. Mr. Weber's research is focused on insurance trends, distribution issues, and new business and policy administration.
Mr. John London, Director of Sales & Business Development
Interlink Electronics, eTransactions: In his role, Mr. London assists Interlink's Fortune 500 customers in understanding, adopting and integrating eBusiness solutions to gain a competitive advantage.
About Interlink Electronics Inc.
Interlink Electronics, Inc. [OTC:LINK.PK] provides the financial services industry as well as the healthcare and government sectors with the electronic signature platform needed to eliminate paper from critical business processes. Interlink's complete solution, which includes esignature software, hardware, and services, allows organizations to implement end-to-end electronic processes no matter where the signing takes place: in-branch, in-the-field, online, or mobile. Interlink Electronics is also known for its family of MicroNav products, powered by the company's patented Force Sensing Resistor (FSR) technology and integrated in handheld consumer electronics devices. Headquartered in Camarillo, California, Interlink Electronics, Inc. also has offices in Japan, Hong Kong, and China. http://www.interlinkelectronics.com/esign
About Celent
Celent is a research and advisory firm dedicated to helping financial institutions formulate comprehensive business and technology strategies. Celent publishes reports identifying trends and best practices in financial services technology and conducts consulting engagements for financial institutions looking to use technology to enhance existing business processes or launch new business strategies. With a team of internationally experienced analysts, Celent is uniquely positioned to offer strategic advice and market insights on a global basis.
For information, please contact:
Nathalie Benoit
Marketing Director
Interlink Electronics
805-279-2750
nbenoit @ interlinkelec.com
Investor Relations Contact:
Michelle Lockard
Interlink Electronics, Inc.
805-484-8855 ext. 114
mlockard @ interlinkelectronics.com
All registrations and trademarks are properties of their respective owners. IntegriSign is a registered trademark of Interlink Electronics, inc. This release contains forward-looking statements that involve a number of risks and uncertainties. The following are among the factors that could cause actual results to differ materially from the forward-looking statements: business conditions and growth in the electronics industry and general economies, both domestic and international; lower than expected customer orders; delays in receipt of orders or cancellation of orders; competitive factors, including increased competition, new product offerings by competitors and price pressures; the availability of third party parts and supplies at reasonable prices; changes in product mix; signi%uFB01cant quarterly performance %uFB02uctuations due to the receipt of a signi%uFB01cant portion of customer orders and product shipments in the last month of each quarter; problems or delays in reporting our results of operations to the public; and product shipment interruptions due to manufacturing problems. The forward-looking statements contained in this document regarding industry and review trends, industry product and technology acceptance, product mix and future business activities should be considered in light of these factors.
###