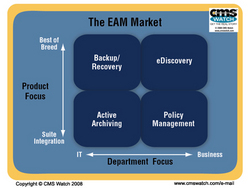 in part because they all see different opportunities in the market and have adopted different architectures.
Boston, MA (PRWEB) May 23, 2008
E-mail Archiving and Management (EAM) technologies archive the contents of mail servers into a centrally-managed repository. EAM technology has become critical to both commercial and government enterprises - but for a variety of different and sometimes conflicting reasons. This has led to a similarly diverse set of approaches from EAM suppliers, according to research released today by CMS Watch, a vendor-independent analyst firm that evaluates content technologies.
Long considered an inconvenient backwater by many enterprises, recent developments have elevated the importance of e-mail archiving and management, including:

Highly visible scandals such as the White House losing up to 5,000,000 e-mails
Increased use of e-mails as evidence in corporate trials
IT's growing concerns over the cost and complexity of managing huge volumes of mail on the network
The logic to consolidate, sort, and index all mail into a single long-term archive is simple. Although EAM tools can be expensive, field experience suggests that successful deployments can yield a fast return on the investment.
These findings come from E-mail Archiving and Management Report 2008, released today. This groundbreaking report evaluates fourteen major EAM suppliers, based on extensive technology research and customer interviews. The 195-page report also provides a breakdown of common usage scenarios to help with selecting an EAM system.
"Nobody really wants to face up to the problems that corporate e-mail mountains cause," notes Alan Pelz-Sharpe, lead analyst on the report. "But since e-mail volumes typically exceed on an order of magnitude (10x) that of files and documents within an enterprise, information chaos is more acute here than anywhere else, so it's time to deal with it."
Yet the tension between IT's need to optimize back-up, recovery, and archiving on the one hand -- and Legal and HR's need for better policy management and e-discovery on the other -- is reflected in a marketplace where vendors tend to favor one approach over the other. "The entry of industry heavyweights Google, Dell, HP, EMC, and IBM into this space has not commoditized the technology," notes Pelz-Sharpe, "in part because they all see different opportunities in the market and have adopted different architectures."
[The "EAM Marketplace - 2008" image is available online at:
http://cmswatch.com/images/CMS-Watch-EAM-Market-2008-large.jpg (high res)
http://cmswatch.com/images/CMS-Watch-EAM-Market-2008-small.jpg (low res)]
"Enterprises looking to deal with e-mail chaos need to tread carefully. It's not just architectures that vary widely - pricing is all over the map too," argues CMS Watch founder, Tony Byrne. "Finding a vendor that meets your needs and your budget requires careful research and comparison of disparate options," concludes Byrne.
The report also found mixed messages in the customer community:

Global buyers of EAM are motivated more by server and storage optimization of Exchange and Notes environments, and less by the regulatory, legal, and e-discovery concerns that predominate among major enterprises in North America
Buyers maintain quite polarized views on Software as a Service (SaaS) approaches, with some enterprises going exclusively this route to avoid infrastructure investments and maintenance, while many others consider hosted EAM a non-starter for corporate e-mail
The report may be purchased at http://www.cmswatch.com/E-mail/Report/, where readers can also download a sample excerpt.
About CMS Watch:
CMS Watch (tm) (http://www.cmswatch.com) is an analyst firm that provides an independent source of buyer's advice on content technologies. Through highly detailed product evaluation reports, CMS Watch sorts out the complex landscape of potential solutions so enterprise project teams can readily identify and assess technologies suited to their particular requirements. To retain its independence as a vendor-neutral analyst firm, CMS Watch works solely for solutions buyers and never for the vendors.
Media Contact:
Kristie Hughes
Tel: 202-966-6999
E-mail: khughes @ cmswatch.com
[The "EAM Marketplace - 2008" image is available online at:
http://cmswatch.com/images/CMS-Watch-EAM-Market-2008-large.jpg (high res)
http://cmswatch.com/images/CMS-Watch-EAM-Market-2008-small.jpg (low res)]
###