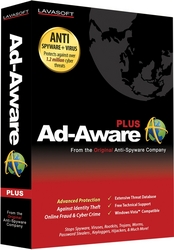 Lavasoft's primary focus and commitment is, and will continue to be, to protect computer users against deceptive malware. We are renewed in our resolve to provide high-quality security solutions, with our enhanced products as well as our freeware
Gothenburg, Sweden (PRWEB) May 22, 2008
Well-known anti-spyware pioneer Lavasoft today announced the global release of Ad-Aware 2008, the latest version of their flagship product, now including integrated anti-virus protection. Ad-Aware 2008 includes an extended detection engine designed to address the explosive growth of today's spyware, viruses, and malware, boosting detection to include over one million new cyber threats.
Today's PC users are more educated and aware when it comes to protecting their privacy online. Still, 78% of computer users lack protection to keep their personal information safe from cyber criminals, research from National Cyber Security Alliance shows. "These are staggering statistics, seeing that a large number of people engage in risky behaviors online, such as banking and shopping," says Lavasoft CEO Jason King. "Ad-Aware 2008 offers a seamlessly integrated solution to combat identity theft and cyber crime. With faster scan times, substantially reduced use of computer memory, and full Vista support, Ad-Aware meets the demands of today's PC users," says King.
2008 major features:
Integrated anti-virus protection
Developed in collaboration with a leading anti-virus technology partner, Ad-Aware 2008 boosts the layers of protection with the extended anti-virus engine.
Improved malware detection
Our amplified detection database now identifies over 1.2 million complex forms of spyware, viruses, and other hybrid malware strains.
Enhanced Rootkit removal system
Ad-Aware 2008 features improved technology to detect stealth malware that takes full control of a computer without user knowledge.
Real-time Protection against malware
Ad-Watch monitors for malicious behavior involving spyware processes, tracking cookies, malicious objects, browser hijackers, keyloggers, Trojans and more, in real-time
"Lavasoft's primary focus and commitment is, and will continue to be, to protect computer users against deceptive malware. We are renewed in our resolve to provide high-quality security solutions, with our enhanced products as well as our freeware," says King.
More information about this product line is available at http://www.lavasoft.com
Price and Availability
The Pro, Plus, and Free versions of Ad-Aware 2008 are available immediately at http://www.lavasoft.com. Pro and Plus are now available with 1, 3, or 5 user licenses, and include free technical support and software updates throughout the license period. Prices begin at $26.95 for Plus and $39.95 for Pro, with aggressive discounts for multi-user licenses. All existing Lavasoft customers with a valid Ad-Aware 2007 license will be eligible to update to the new 2008 version completely free of charge.
Ad-Aware is now also available to users in English, Portuguese, Dutch, French, German, Italian, and Spanish.
About Lavasoft:
Founded in 1999, Lavasoft is "the original anti-spyware company", with over 350 million downloads worldwide for the flagship Ad-Aware product. A private company headquartered in Gothenburg, Sweden, Lavasoft provides security solutions for individual consumers and enterprise clients alike, including anti-spyware, registry optimization, firewall, digital shredding, and encryption. Lavasoft has 4,000 partners in 120 countries.
For further information, please contact Michael Helander, Vice President of Marketing at Lavasoft, telephone +46 733 18 45 63 or press @ lavasoft.com.
###