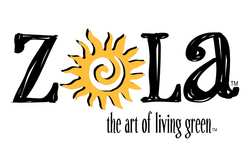 Thank you! I have wanted to make changes, but didn't know where to start. You did all the work for me
Lilburn, GA (PRWEB) May 28, 2008
For anyone who has ever asked, "What can I do to help the environment?" Zola: The Art of Living Green provides an opportunity to share an empowering message and initiate change in homes across the United States, while also offering the chance to earn a supplemental income.
Embracing a grassroots approach, Zola recruits impassioned individuals to throw Eco Home Parties in their communities. Zola's product line is carefully determined using the triple bottom line value system that focuses on People, Planet, and Profit. Featured are some of the best eco-friendly products on the market including, energy and water saving devices, reusable bags, recycled paper goods and soy candles. In addition to environmental benefits, many of these products will also save people money.
With interesting, and sometimes startling facts, a Zola Coordinator takes guests through the life of an average American consumer and demonstrates how to make small changes to improve their lives and surrounding environment. Responses from Zola customers have ranged from "Thank you! I have wanted to make changes, but didn't know where to start. You did all the work for me," to "You made it so easy to make these changes, and I didn't feel like I was being judged."
Tony Kvale, of Kvale Good Natured Games remarks, "Zola is a direct-selling model that is focused on products and principles, rather than pure profit motivation. Zola's message is a long-awaited breath of fresh air!"
Enviromom says, "I love that the Zola 'home party' model is completely transparent -- if you become a Zola Goods Coordinator, you aren't pressured to sign up other coordinators. You just host your parties and get a commission on the products sold. The product range is great -- reusable bags, green cleaning kits, light bulbs, you name it -- and you can order direct from the Web site. So it's a great source if you're looking for a particular product, and an excellent way to educate others about sustainability while making an income."
Zola, of Italian origin, means "piece of earth." By making small changes, each of us can heal our own piece of earth and together create an abundant future for our planet.
If you would like more information about Zola, or to schedule an interview with Founder, Beth Remmes, please call 770-715-4525 or visit Zola: The Art of Living Green.
###